Nigeria: Kaduna police bomb disposal officer killed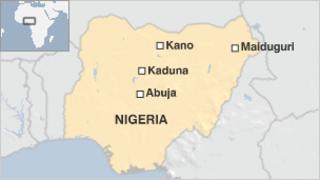 A Nigerian bomb disposal officer has been killed when an explosive device he was trying to defuse went off, a police spokesperson has said.
The device was wrapped in a carrier bag and hidden behind an electricity pole in the residential area of Ungwar Sarki in the northern city of Kaduna.
A BBC correspondent at the scene says the police bomb squad was called in after reports of a first explosion.
Last week, Kaduna was hit by other blasts, including a suicide bomber.
The Islamist Boko Haram group, which want to establish Islamic law in Nigeria, claimed it was behind those attacks.
The militants have recently killed hundreds of people in the north.
The BBC's Abdullahi Kaura Abubakar in Kaduna says he saw the dead body of the officer strewn across the middle of a road.
Our correspondent says a bystander was hurt slightly, when a bomb fragment grazed his eyelid.
He says a large crowd had gathered to watch and cheer on the officer as he tried to defuse the bomb.
Kaduna state police spokesperson Aminu Lawan told the BBC the police's anti-bomb squad had found other unexploded devices in the same area on Tuesday.
No-one has claimed responsibility for planting the devices.