DR Congo Inga Three Dam: BHP Billiton withdraws custom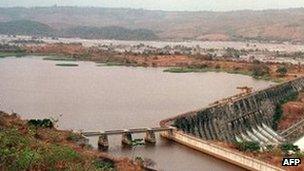 A huge Congolese hydroelectric scheme has been dealt a blow by mining giant BHP Billiton's decision to abandon plans for an aluminium smelter.
The foundry would have been powered by the planned Inga Three hydro project, providing it with a major customer.
The firm said it decided to pull out after a review of construction costs.
The Democratic Republic of Congo's Inga Three would add to two existing dams on the Congo River, making it Africa's largest hydropower dam.
The project is seen as crucial to providing sufficient power by 2020 and spurring the country's economic growth.
DR Congo's multitude of rivers offer enormous hydropower potential, but a lack of infrastructure and difficult business climate have made it difficult to find investors - leaving the vast majority of the country in darkness.
"The company has chosen to not continue the [smelter] project, which was still at a very early stage, following a review of its economics," BHP Billiton spokesman Ruban Yogarajah told the Reuters news agency, adding that the firm would not have been the only customer of Inga Three.
Correspondents say the pullout of the Australian-based multinational is significant because the mining company would have been a major - and solvent customer.
The dam would also have provided electricity for the Congolese national grid.
The DR Congo government says it is confident of finding other backing for the scheme - which has been considered for many years, but never received sufficient backing.
"The problem is real but there are alternative solutions," Energy Minister Gilbert Tshiongo told Reuters.
Inga Three, near the estuary of the Congo River, is estimated to cost between $8bn and $10bn (£5-£6bn) and would produce 3,500 to 7,000 megawatts.
The plan has been stalled for several years with the African Development Bank warning over the costs - but last year it received a boost when DR Congo and South Africa signed an agreement to build Grand Inga, another much more ambitious hydropower scheme.
World Bank studies show that project would cost $50bn and could take decades to build, but would produce twice as much electricity as China's Three Gorges dam.
A mining boom in the mineral-rich southern province of Katanga has put additional strain on DR Congo's inadequate power resources.
The government last year said Inga Three was planned to come on line in 2018.
Inside DR Congo
The Democratic Republic of Congo covers 2,344,858 square km of land in the centre of Africa, making it the 12th largest country in the world.
Eastern DR Congo is awash with a variety of different rebel groups – some have come from neighbouring countries, while others have formed as self-defence groups. Many are taking advantage of the lack of a strong state to seize control of the area's mineral riches.
DR Congo has abundant mineral wealth. It has more than 70% of the world's coltan, used to make vital components of mobile phones, 30% of the planet's diamond reserves and vast deposits of cobalt, copper and bauxite. This wealth however has attracted looters and fuelled the country's civil war.
Despite the country's size, transport infrastructure is very poor. Of 153,497km of roads, only 2,794km are paved. There are around 4,000 km of railways but much is narrow-gauge track and in poor condition. Waterways are vital to transport goods but journeys can take months to complete. Overcrowded boats frequently capsize, while DR Congo has more plane crashes than any other country.
With an estimated population of 71 million, DR Congo is the fourth most populous country in Africa. Some 35% of the population live in cities and the capital Kinshasa is by far the largest, with more than 8 million inhabitants. DR Congo has around 200 ethnic identities with the majority of people belonging to the Kongo, Luba and Mongo groups.
Given its size and resources DR Congo should be a prosperous country, but years of war, corruption and economic mismanagement have left it desperately poor. In 2011 it lags far behind in many key development indicators, with average life expectancy increasing by only 2 years since 1980, after a period when it actually fell during the mid 1990s.
Related Internet Links
The BBC is not responsible for the content of external sites.