Mali: UN warning over refugees fleeing Tuareg rebellion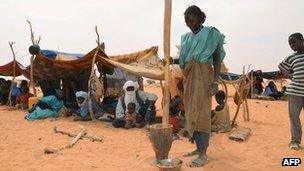 The UN says the number of Malian refugees fleeing to neighbouring countries to escape fighting between Tuareg rebels and the military has doubled over the past 10 days.
More than 44,000 people have crossed into Mauritania, Niger and Burkina Faso.
Amnesty International described the fighting as the worst human rights crisis in northern Mali for 20 years.
The regional group Ecowas has condemned the Tuareg rebels for their offensive.
The Azawad National Liberation Movement (MNLA) took up arms last month following the return of many Tuareg fighters from Libya, where they had fought alongside Col Muammar Gaddafi's forces.
The BBC West Africa correspondent Thomas Fessy says the area affected by the fighting is now relatively calm.
Both sides claim to control the north-eastern oasis town of Tessalit, near the border with Algeria.
The resurgence in fighting follows two years of relative peace between the government and the Tuareg.
The UN's refugee agency, the UNHCR, said about 18,000 Malian refugees had arrived in Mauritania, a similar number in Niger and more than 8,000 had gone to Burkina Faso.
"As the influx continues, our teams are stepping up assistance for refugees who have taken refuge in makeshift shelters in villages bordering Mali," UNHCR spokesperson Melissa Fleming was quoted as saying in a news release.
"Humanitarian assistance is all the more critical because the Sahel region is facing a severe food crisis due to several years of drought," she said.
The International Committee of the Red Cross (ICRC) says fighting has displaced 60,000 people within Mali's borders, not including those who have fled to neighbouring countries, reports AFP news agency.
Meanwhile, Amnesty International West Africa researcher Gaetan Mootoo warned that the rule of law had been "markedly absent" in northern Mali for years.
Our correspondent says the warnings follow a week of heavy fighting around Tessalit, after rebels besieged an army base just outside the town.
Troops backed by helicopter gunships faced strong resistance, and heavy casualties are reported on both sides, though at present those reports are impossible to verify.
The MNLA is estimated to be about 1,000-strong, and emerged as formerly integrated Tuareg rebels deserted the Malian army, joining with Tuareg fighters returning from Libya.
The government accuses them of joining forces with al-Qaeda's North Africa branch, though the rebels deny this.
On Friday, West Africa regional group Ecowas condemned the rebels, urging them to end hostilities and surrender all occupied territory.
It followed a two-day summit of the 16-member group in the Nigerian capital Abuja.
Ecowas said it had approved the release of $3m (£1.9m) to assist Mali with the humanitarian consequences of the rebellion, reported Reuters news agency.
Related Internet Links
The BBC is not responsible for the content of external sites.