Somalia's al-Shabab 'forced whole classes to fight'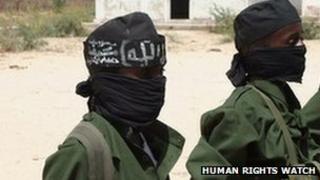 Entire classrooms of Somali children - some as young as 10 - have been forced to fight for Islamist militants, a Human Rights Watch (HRW) report says.
An unprecedented number of children has been abducted over the past two years, HRW said.
Boys are often sent to the frontline to serve as "cannon fodder" to protect adult fighters - and girls used as "wives" for al-Shabab fighters.
Al-Shabab controls many southern and central parts of Somalia.
But forces allied to the UN-backed government last year pushed them out of the capital, Mogadishu.
They have also been pushed back by forces from Kenya and Ethiopia, who engaged in heavy fighting with al-Shabab on Tuesday.
A BBC correspondent in Somalia says the Ethiopians have captured a key military base - Bohol Bashir - about 50km (30 miles) from the central city of Baidoa.
Earlier, six civilians were killed and 14 others were injured when their truck hit a landmine in the same area.
Correspondents say the mine may have been laid by al-Shabab, which is trying to halt the advance of Ethiopian troops towards Baidoa, which is held by the Islamist group.
'Nowhere is safe'
The use of child soldiers is not a new phenomenon in Somalia.
What is different, HRW said in a report released on Tuesday, is the scale and violence of the forcible recruitment by al-Shabab since 2010.
"Over the course of the last two years, al-Shabab has increasingly been forcibly abducting children - not only from their homes, but also from their schools and playing fields," HRW researcher Laetitia Bader told the BBC's Network Africa programme.
"Nowhere is safe for children in Somalia any more," she said.
The report is based on more than 164 interviews with Somali children - including 21 who had escaped from al-Shabab forces, as well as parents and teachers who had fled to Kenya.
"Out of all my classmates - about 100 boys - only two of us escaped, the rest were killed," a 15-year-old boy told HRW.
"The children were cleaned off. The children all died and the bigger soldiers ran away," he said of an incident that happened in 2010.
Training camps
More than 70 children described to the New York-based group how entire classrooms were abducted from their schools and taken to al-Shabab training camps.
Most spent up to three months in training camps, where they were used as domestic workers and taught to use weapons, including AK-47s, and how to throw hand grenades.
While in the camp, children were also subjected to abuse - and made to witness the assault and killing of people al-Shabab considered enemies.
Other children interviewed talked of "bodies of children littering the battle-fronts", Ms Bader said.
The majority of children being forced to join al-Shabab are between 14 and 17 years old, but some are as young as 10, she said.
The Somali transitional government was also criticised for not doing enough to end the own use of child soldiers in its ranks and those of its allies.
Analysts say al-Shabab's military position has been weakened by recent gains by African Union troops, and Kenyan and Ethiopian forces.
A major diplomatic push to restore stability in Somalia is underway - and the UK government is holding a conference in London on Thursday to try to find a political solution.