Sierra Leone: All boom but no progress?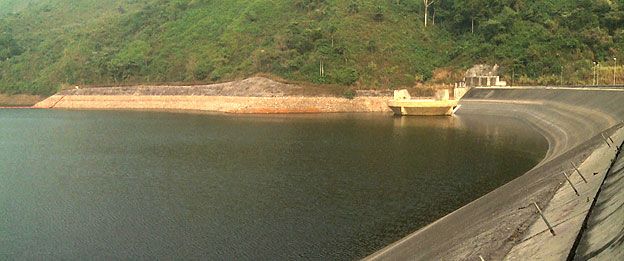 In the centre of Sierra Leone, in a majestic green valley, a new hydro-electric dam symbolises both progress and frustration.
Ten years after the end of the civil war here, a construction boom is under way.
The Bumbuna dam is one of the biggest recent projects.
But the economy is so run down by decades of war and corruption that it will take many more years, if at all, before the boom benefits most of the population.
When I stood on top of the Bumbuna dam, I felt like I had lived through a part of Sierra Leone's history.
The last time I was at Bumbuna, in the late 1990s, government soldiers and rebels infested the surrounding forests, fighting for their lives in the civil war.
The dam was a mere pipedream back then - a ghost project conceived in the 1980s.
But now, electricity is being produced; I had a reassuringly warm feeling, standing high up on the dam, that progress had been made.
However - to be more objective - such is the decrepit state of Sierra Leone's national grid - power lines and substations - that it cannot cope with all of the 50 megawatts the whirling new turbines can supply.
"We concentrated our efforts on power generation," said Abdul Jallow, a senior government official working on the dam.
"And we perhaps took our eye off the transmission lines issue. That's now being addressed."
But new power lines will take a considerable time to complete.
Just imagine the expense and disruption of renewing the sockets and circuit boards in your own home; in Sierra Leone, the whole country needs rewiring.
There are many other projects under way.
A stone crushing plant just outside the capital, Freetown, spews clouds of smoke and dust into the surrounding mountains as it creates great mounds of ballast for building works.
Major roads are being rebuilt in Freetown and between regional towns.
Two big iron ore mining projects have recently begun; a new railway and graded haul roads are used to shift ore to port facilities on a creek north of Freetown.
Sierra Leone has never seen anything like this level of economic activity.
But the permanent jobs created by these projects number just a few tens of thousands; the population of Sierra Leone is six million.
The urbane Finance Minister, Samura Kamara, talks up the achievements of recent years.
"Donor countries used to contribute about 60 or 70% of our national government budget," he told me in his gloriously untidy office stacked with mounds of unfiled papers.
"Now it's down to about 40% - we finance the rest ourselves."
These figures are impressive. So is the treasury building where Mr Kamara has his office.
The treasury was burnt down during a coup in 1997 and it stood for many years as a blackened symbol of violence and despair.
Now it is rebuilt as a handsome, cream-coloured block, in the colonial style, that puts most of the other buildings in Freetown to shame.
But there is still so much wrong with Sierra Leone - so much still to fix.
The country may have clawed its way up a few rankings in the anti-corruption indices of Transparency International.
But everyone here knows that the former anti-corruption tsar, Abdul Tejan Cole, was forced out of office a few years ago before he could nail the handful of ministers he had in his sights.
I tested some of my criticisms on the finance minister.
"Why isn't there yet a single hotel of international standard for tourists - when you have some of the most beautiful beaches - and most hospitable people - in the world?" I asked him.
The irrepressible Mr Kamara shot back: "Hilton and another group are about to start work on two sites."
I've been reporting from Sierra Leone for more than 15 years.
I have never seen such a dynamic economic environment as today.
During the war years, virtually the only decent cars you would see on the streets here would belong to a foreign aid agency or a diplomat.
Now, most of the shiny four-wheel drives belong to extraction companies such as London Mining or African Minerals.
There has been obvious progress in the infrastructure.
But it is equally obvious that this country's potential is nowhere near being met.
Youth unemployment is rife.
A few days ago I went to one of Freetown's slum areas with a dynamic community nurse who works for a UK-based charity.
Aminata Ngegbai was looking for pregnant teenagers to save them from the dreadful curse of fistula.
Fistula occurs when there in no antenatal care and a woman's birth canal is torn in childbirth. It causes incontinence - and often death.
There is no excuse for this kind of deadly childbirth affliction to exist in the modern world - a world that Sierra Leone aspires to join.
Yes, there has been much progress in Sierra Leone in the 10 years since the end of the war.