Cassava 'offers climate change hope' for Africa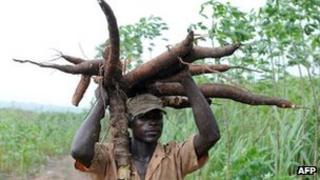 The cassava plant could help African farmers cope with climate change, a scientific report says.
"It's like the Rambo of the food crops," report author Andy Jarvis, of the Colombia-based International Center for Tropical Agriculture, said.
He told the BBC: "Whilst other staples can suffer from heat and other problems of climate change, cassava thrives."
The root crop is already one of the most widely consumed staple foods on the continent.
But the report also stresses the need for more research to make cassava more resistant to pests and disease.
Last November, UN scientists warned that a virus was attacking the crop, nearing an epidemic in parts of Africa.
Viral infections have periodically wiped out the crop in some regions leading to famine.
'Fallback crop'
Originally from South America, cassava was first introduced to sub-Saharan Africa by Portuguese traders in the 17th Century. It grows in poor soils and with little water.
According to the researchers of the reportIs Cassava the Answer to African Climate Change Adaptation?,it is now the second most important source of carbohydrate on the continent, where it is consumed by around 500 million people every day.
Cassava outperformed six other staple crops in sub-Saharan Africa - potato, maize, bean, banana, millet, and sorghum - in 24 climate prediction models, the report says.
The plant grows well in high temperatures and if drought hits it "shuts down" until the rains come again, the scientists said.
"We have very few good stories where we see crops doing equal or better under climate change and finally we've found one with cassava," Mr Jarvis told the BBC's Network Africa programme.
He said this was good news for Nigeria, Africa's biggest grower, with "36-37 mega [million] tonnes of production every year", and the Democratic Republic of Congo the next largest producer.
Cassava could be now a "fallback when other crops are failing", Mr Jarvis said.
"In East Africa, maize is preferred by a lot of farmers, cassava can be a back-up plan - a plan B."
The root, rich in starch, is grown less in southern Africa, where there are cold temperatures during the winter months. But this could change, Mr Jarvis said.
In a statement, he added: "Hopefully, these findings will be a clarion call to the scientific community for renewed focus on cassava."