South Africa minibus driver jailed for deaths of pupils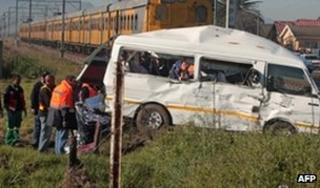 A South African minibus driver has been sentenced to an effective 20 years in jail for killing 10 school pupils when his vehicle collided with a moving train two years ago.
Jacob Humphreys had overtaken a row of cars, ignored safety signals and proceeded over a railway track.
Some of the victims' relatives burst into tears during proceedings, local media report.
Humphreys reportedly looked down as the sentence was read out.
The accident happened near Cape Town on 25 August, 2010 as Mr Humphreys, who was 55 at the time, was ferrying the children to school.
The children were reported to have been between the ages of eight and 11.
Inside a packed court room, Judge Robert Henney sentenced Humphreys to 12 years on 10 murder counts to run concurrently and six years for each of four murder charges, some of which will also run concurrently, local media reported.
Millions of South Africans use minibus taxis as their main form of daily transport, but the industry is plagued by reports of poor driving, unroadworthy vehicles and low safety standards.
Thousands of people die on the country's roads each year and most of the accidents involve minibuses, says the BBC's Pumza Fihlani in Johannesburg.
This is one of just a few cases where a driver is charged and sentenced on murder charges and not culpable homicide, which receives a lower sentence, she says.
It could signify a shift in how the courts want to deal with road accidents, particularly where recklessness is found to have been a key factor in the accident, our correspondent says.