Nigeria pirates kidnap cargo ship crew in raid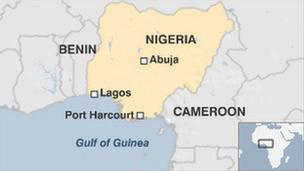 Pirates have attacked a cargo ship off Nigeria, kidnapping two crew members and injuring another, an international maritime watchdog has said.
Another member of the crew is missing following the attack in which the pirates looted the ship.
The Dutch-owned ship was anchored near the Nigerian coast when it was targeted by the eight armed men.
The United Nations this week warned that pirate attacks in the Gulf of Guinea are becoming more violent.
In this latest attack eight armed pirates in speedboats fired at the ship on Tuesday afternoon, said Noel Choong, of the International Maritime Bureau (IMB) said.
This comes two weeks after gunmen fired on a cargo vessel killing the captain in another attack in Nigerian waters.
The West African coast is becoming a major centre for pirate attacks and is now placed by maritime insurers in the same risk category as Somalia.
Mr Choong told the AFP news agency that there had been eight incidents this year and "more attacks may have gone unreported".
"We urge ships to be vigilant at all times. Please go for direct berthing at port instead of anchoring, or stay very far away from coast," AP news agency quotes him as saying.
The UN has called on West African nations to co-operate and come up with ways to combat sea piracy.
Related Internet Links
The BBC is not responsible for the content of external sites.