Julius Malema defiant at ANC expulsion in South Africa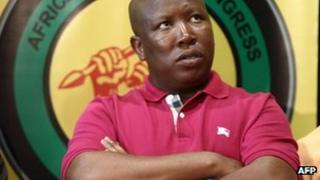 Julius Malema has come out fighting after being expelled from South Africa's ruling ANC - saying: "I will die for what I believe in".
The African National Congress rejected his appeal against a five-year suspension for sowing divisions.
Clashes broke out overnight between Mr Malema's supporters and opponents in his home town Polokwane.
Once a close ally of President Jacob Zuma, Mr Malema, 30, is now one of his strongest critics.
The BBC's Andrew Harding in Johannesburg says the expulsion means Mr Zuma, who became president in 2009, is now virtually assured of another term.
Correspondents say the ANC's disciplinary committee changed Mr Malema's punishment from a five-year suspension to expulsion because he showed no remorse during the proceedings.
Mr Malema said his expulsion "is not the end of the road", South African Broadcasting Corporation (SABC) public radio reports.
The former ANC Youth League leader now has 14 days to appeal against the decision - he has previously said he would challenge such a verdict.
Mock tombstone
Supporters of Mr Malema had gathered outside his grandmother's house in Polokwane to await the verdict.
As soon as it was announced, fighting broke out between them and others, who arrived carrying a mock tombstone in celebration of the expulsion.
SABC reporter Mahlatse Gallens, who was at the scene, says the rival groups quickly broke down a police barricade set up to separate them.
She says they taunted each other with insults, throwing punches, stones, bottles and bricks - and at one stage gunshots were heard - there have been no reports of deaths.
Mr Malema says he is being persecuted for advocating that the party should adopt a policy to nationalise mines, and replace Mr Zuma as its leader.
But his combative, populist style had angered many in the party, correspondents say.
Analysts say the ANC's disciplinary committee may have opted to expel him after he began ridiculing Mr Zuma in public after the suspension.
At an ANC conference in December, he sang a song referring to the president as the "shower man" in reference to Mr Zuma's 2006 rape trial.
Mr Zuma was acquitted of rape charges - but he admitted to having had unprotected sex with his HIV-positive accuser, saying he showered afterwards to stop infection.
Mr Malema was found guilty in November of three of the four charges brought against him, which included disrupting a national ANC meeting, and of bringing the party into disrepute by calling for regime change in democratic Botswana - a position which contravenes party and government policy.
He was also found guilty of provoking serious divisions within the party by praising Thabo Mbeki, who was sacked as party leader and then ousted as South Africa's president by the ANC in 2008.
He has also outraged sections of South Africa's white community by frequently singing the song "Shoot the Boer [white farmer]", which a court has ruled is hate speech.
However, the ANC hearing cleared him of sowing racism or political intolerance.