Analysis: Malema expulsion clears the path for Zuma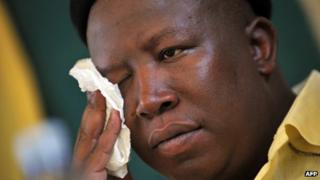 He was never going to go quietly.
Julius Malema - the swaggering, articulate, comic, bullying, Hugo Chavez of South African politics - had come to believe in his own hype.
It is a neat irony that he has now been expelled from the party that created him for refusing to accept that the ANC had the right to suspend him.
So what next?
Nothing precipitous, I suspect. The police and tax inspectors who have been carefully investigating Mr Malema's affairs will no doubt be quietly asked to wait a decent interval before moving in - just to avoid the appearance that any of this might have been stage-managed.
As for President Jacob Zuma - he must be purring with satisfaction at the way his most public enemy has been neutered. But perhaps he should be counting his blessings instead. It could have ended very differently.
Mr Malema was a creature of his times - a man who articulated the rage and frustration of South Africa's poor, marginalised black community, while embodying some of the aspirational hopes of a country littered with shiny new shopping malls, and also representing the uglier post-Mandela realities of a corrupt, show-your-bling political culture that barely notices the contempt in which it is held.
He was over- and under-estimated in equal measures - as bullies so often are.
The last time I went to interview him at the ANC headquarters in Johannesburg, I'd just come from one of the open-sewers-and-corrugated-shack townships outside the city. Most people I spoke to there seemed torn between sheer enjoyment of Julius's barbed wit and brazenly populist agenda - he had a genius for grabbing the headlines - and embarrassment at his divisive racial taunts and Mugabe-esque rhetoric.
When I mentioned my impressions to him, he brushed them aside. He was a formidable debater, and no fool. And he had an agenda - built around nationalisation and the seizure of white-owned land.
Premature celebrations?
In a country led by a party that, by trying to hog almost every corner of the political spectrum, often seems to stand for nothing but the preservation of its own power, Mr Malema stuck to his ideological guns. No wonder President Zuma - a consensus politician who seems genuinely alarmed by the prospect of trying to end a policy debate - found Mr Malema so threatening.
It is too early, of course, to know whether Mr Malema will be found guilty of abusing his position, cheating his taxes, or any of the other allegations which President Zuma's friends have been aggressively briefing the media about. But the battle is over. Mr Zuma is virtually assured of another term as president.
And yet, Mr Zuma must surely wonder - what if Julius Malema had been less swayed by the lure of quick wealth? What if he had emerged as an unstoppable political force? And what will happen now if someone less absurd, less hypocritical, picks up that baton and runs, hard and fast, at the head of an angry crowd?