Somalia journalist Ali Ahmed Abdi shot dead in Galkayo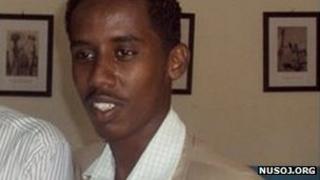 Gunmen in Somalia have shot dead a journalist - the third such killing this year.
Colleagues of Ali Ahmed Abdi said he was shot in the head by masked men as he walked home in the north-central town of Galkayo.
Somalia has not had a functioning central government for more than 20 years and has been riven by factional fighting.
It is one of the most dangerous places in the world for journalists to work.
"He was heading home on Sunday evening when gunmen stopped him, before shooting him in the head several times," a former colleague, Nuh Muse Birjeb, told the AFP news agency.
According to the National Union of Somali Journalists (NUSOJ), Abdi is the 30th journalist to be murdered in Somalia since 2007.
Until recently he had been working for the privately owned Galkayo Radio, before joining a Somali news website.
Two journalists were killed outside their homes in the capital, Mogadishu, earlier this year.
"This is an outrageous and brazen act of cruelty committed against a young journalist and his killers must not be held above the law," the NUSOJ said in a statement.
"It is very agonising period that we have lost a colleague in every single month of this year."
Galkayo straddles the border between Somalia's northern semi-autonomous region of Puntland and the neighbouring region of Galmudug.