Joseph Kony - child kidnapper, warlord, 'prophet'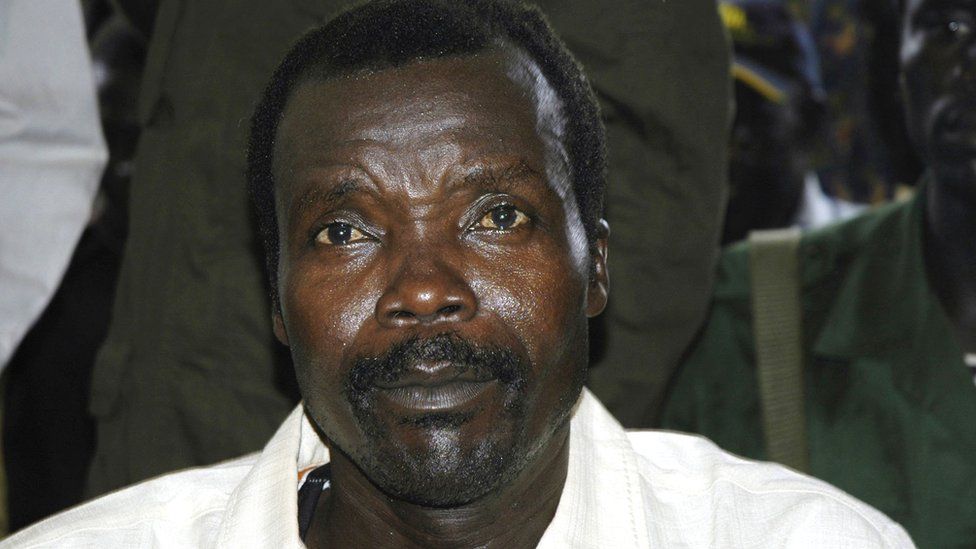 Described at different times as a terrorist, prophet and brutal killer, Ugandan Joseph Kony, who is wanted for war crimes, has escaped capture for more than two decades.
His rebel Lord's Resistance Army (LRA) is notorious for abducting thousands of children to use as soldiers or sex slaves.
A former Catholic altar boy, he has waged war and ordered violent attacks, first in his own country and then, after being forced out, in South Sudan, the Democratic Republic of Congo and Central African Republic (CAR).
At one time he was pursued by Ugandan and US troops but they gave up the chase in 2017 arguing that with his dwindling band of followers he had become a spent force.
He is accused of brutalising civilians in northern Uganda through murder, abduction, mutilation and the burning of property.
From the 1990s, LRA attacks became infamous. Rebel fighters would hack off their victims' limbs or parts of their faces.
Hundreds of thousands of people were forced to flee their homes, tens of thousands were killed and thousands of others were abducted for fighting and sexual slavery.
Mr Kony himself is thought to have taken many of the captured women as wives.
He also has an unknown number of children, two of whom, Salim and Ali, have been sanctioned by the US for their alleged role in LRA activities.
Born in the early 1960s into an Acholi peasant family in Odek, a village in northern Uganda, Mr Kony is remembered as an amiable boy.
"He played football and was a brilliant dancer," one of his former classmates said, recalling the rebel leader's days at Odek primary.
He became a traditional healer after leaving primary school, but in the 1980s was drawn to the Holy Spirit Movement led by charismatic figure Alice Auma, better known as Alice Lakwena.
She said she was fighting for the rights of the Acholi people who were feeling marginalised in the turbulent politics of 1980s Uganda.
They felt excluded from power after President Milton Obote, who was from the north, was overthrown in a military rebellion, and eventually replaced by current President Yoweri Museveni in 1986.
Despite promising her followers protection from bullets, Ms Auma's movement was defeated in 1988 and she fled to Kenya.
The LRA was founded in the aftermath of that defeat saying it continued to support the people of the north and wanted to install a government based on the biblical 10 commandments.
What that meant in practical terms was never clear.
At one time the LRA was popular in the north, but that waned as the group's brutality increased.
Mr Kony has used religion and traditional beliefs to inspire his followers but some question his sincere commitment to those ideas.
Author Ledio Cakaj, who has interviewed hundreds of LRA defectors, told the Washington Post that the LRA leader "has never been rigid about anything except his own survival".
Why is he described by some as a 'prophet'?
Mr Kony sees himself as a spirit medium.
"They will tell us what is going to happen. They say, 'You, Mr Joseph, tell your people that the enemy is planning to come and attack,'" he has explained.
In a 2006 film broadcast on the BBC, one of his close allies, Captain Sunday, said that through the help of spirits the LRA leader could see the future. He was also immortal, the captain added.
"I will communicate with Museveni through the holy spirits and not through the telephone," Mr Kony once said.
He has created an aura of mysticism around himself and his rebels follow strict rules and rituals.
"When you go to fight you make the sign of the cross first. If you fail to do this, you will be killed," one young fighter who escaped from the LRA told US-based Human Rights Watch.
"You must also take oil and draw a cross on your chest, your forehead, and each shoulder, and you must make a cross in oil on your gun. They say that the oil is the power of the Holy Spirit."
He has also used terror to maintain control, beating and killing followers who were caught trying to flee. Some former fighters have said they complied with the leader's orders out of fear.
Ex-commander Kenneth Banya told the BBC in 2012 that he had sex with a minor because he was threatened with death if he left her alone.
Why has he used violence against his own people?
Mr Kony has described himself as a "freedom fighter" but has been accused of being responsible for the deaths of thousands of people in the north of Uganda.
He has used biblical references to explain why it was necessary to kill his own people, since they had, in his view, failed to support his cause.
"Let me tell you clearly what happened in Uganda. [President] Museveni went into the villages and cut off the ears of the people, telling the people that it was the work of the LRA. I cannot cut the ear of my brother; I cannot kill the eye of my brother."
What has happened to the LRA?
In 2005, the LRA was forced out of Uganda by the army and the rebels went into what was then Sudan (now South Sudan) and eventually set up camp in the border area with DR Congo.
Mr Kony's fighters continued to spread terror targeting and killing local people for provisions. They later moved to CAR where they acted more like a criminal outfit engaging in poaching and illegal mining.
There have been attempts to make peace, but talks fell apart in 2008 because the LRA leader wanted assurances that he and his allies would not be prosecuted.
Other key figures have either been killed, captured, or have given themselves up.
It inspired a public outcry, which included celebrities such as Oprah Winfrey, to boost the hunt for Mr Kony.
About 100 US troops had already been deployed to central Africa in 2011 to support an African Union-led mission against the LRA, but #Kony2012 increased the pressure to get results.
The film proved controversial, especially in Uganda, where critics said it oversimplified a complex subject, but Invisible Children said it succeeded in extending the US mission.
However, Mr Kony has not been found and in 2017 the US and Ugandan armies ended their efforts to track him down.
They argued that his ability to cause trouble had been degraded and he was no longer a threat.