Hissene Habre: Belgian extradition case opens at ICJ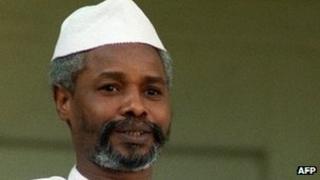 The International Court for Justice is hearing a request from Belgium to extradite Chad's ex-President Hissene Habre for trial for alleged atrocities.
Mr Habre, 69, is accused of killing and torturing tens of thousands of opponents between 1982 and 1990 - charges he denies.
He has been living in Senegal since he was ousted in 1990 and was arrested in 2005 - but never prosecuted.
Senegal has previously refused four extradition requests from Belgium.
'Hope'
Belgium has asked the UN's highest court to order Senegal to fulfil its obligations under international law - and either prosecute him or extradite him to stand trial in Brussels.
The case is about "taking a stand against impunity in the most serious crimes in international law", Belgian representative Paul Rietjens said during opening remarks, the Associated Press reports.
Public sittings will be held until 21 March in Dutch city of the Hague, where the court is based.
Senegal's representative is due to open its case on Thursday.
A ruling, which is legally binding, is not expected for months.
Dubbed "Africa's Pinochet", Mr Habre was charged in 2005 by Belgium with crimes against humanity and torture.
Alleged victims filed complaints under Belgium's universal jurisdiction law, which allows the country's judges to prosecute human rights offences committed anywhere in the world.
In January, a Senegalese court rejected a Belgian request to extradite Mr Habre.
At the time, Senegalese President Abdoulaye Wade said he expected the extradition would be imminent - and the appeal court's decision was due to a procedural error.
In papers filed with the International Court of Justice, Senegal contends that it still intends to prosecute Mr Habre, according to campaign group Human Rights Watch.
ButSenegalese officials have previously ruled out putting him on trial.
After years of wrangling, the African Union has urged Senegal to either put Mr Habre on trial or send him to a country which would do so.
Last year, Senegal stopped plans to repatriate Mr Habre to Chad following a plea from the UN, which feared he could be tortured on his return.
Human rights groups also said he would not get a fair trial in Chad.
In 2008, a court in Chad sentenced Mr Habre to death in absentia for planning to overthrow the government.
A 1992 Truth Commission in Chad accused him of being responsible for widespread torture and the death of 40,000 people during his eight-year rule.
He was accused of carrying out a deliberate policy of terror to discourage any opposition.
Survivors of torture say that, among other things, they were subjected to electric shocks, near-asphyxia and "supplice des baguettes", when their head was squeezed between sticks.