Gunmen kill 19 on Ethiopian bus in Gambella region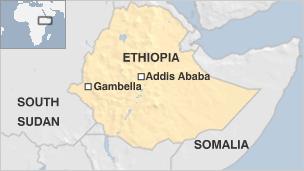 Gunmen have attacked a public bus in western Ethiopia, killing 19 male passengers, officials say.
One report said the attackers kidnapped five female passengers during their assault on the bus, 20km (12 miles) from the town of Gambella.
Some of the other passengers were injured.
Officials did not speculate as to a reason for the attack. Gambella province has a history of conflicts between communities.
State-owned Ethiopia TV said the attack happened early on Monday.
The report said there were 34 passengers on board at the time.
Security forces have been sent to the area to track down the gunmen and try to find the hostages.
Omod Obang Olum, head of the local government, said the victims were Ethiopian residents travelling in a public bus.
He was quoted by the AP news agency as saying the bus was ambushed near a town called Bonga, and that the attackers were carrying machine guns.
The AP report did not mention any hostages being taken.