Atupele Muluzi arrested after Malawi riots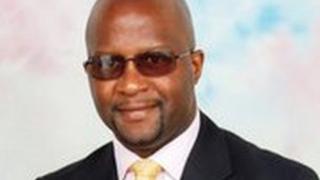 The son of Malawi's former President Bakili Muluzi has been arrested following two days of political violence in the capital, Lilongwe.
Atupele Muluzi, 34, has been charged with inciting violence, police say.
He hopes to lead the United Democratic Front (UDF) founded by his father in elections due in 2014.
On Sunday, police fired tear gas as he was about to speak in Lilongwe, sparking a violent reaction in which a police station was burnt down.
The protests continued on Monday, with some police officers going into hiding after their houses were targeted in the densely populated Area 24 suburb.
The governing Democratic Progressive Party (DPP) has selected Peter Mutharika, brother of the current president, as its candidate for the election.
President Bingu wa Mutharika won a resounding second term in office in presidential elections in May 2009, but has since faced criticism over his handling of the economy.
Bakili Muluzi won Malawi's first multiparty elections in 1994 and then handed power to Mr Mutharika after serving two terms.
But the pair then fell out, with Mr Mutharika saying allies of Mr Muluzi were blocking his anti-corruption drive.
The UK and other donors cut aid to Malawi in 2010, amid criticism of the government's economic policies and its attitude to the opposition and journalists.
Last July, at least 19 people were shot dead by police during anti-government protests over the worsening economy.
Malawi is one of the poorest countries in the world, with an estimated 75% of the population living on less than $1 (60p) a day.