Kenya's Maasai cricketers in row over attire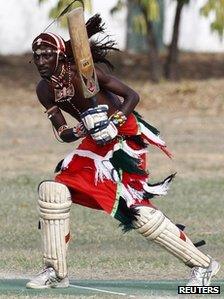 A team of Maasai cricketers in Kenya is engaged in a row with their coach over whether to play in their traditional custom at an upcoming tournament.
Trainer Steve Tikolo says he wants the novice players to wear cricket whites.
But they want like to wear sandals made from recycled tires, beads and bracelets and a traditional "shuka" wrap, which they wrap around the body.
The team, called the Maasai Warriors, is preparing for the Last Man Stands Twenty20 Championship in South Africa.
"It's not just a bunch boys going to play cricket, they will also be promoting Kenya's image by playing in their traditional attire, adding some African flavour to the tournament,'' Aliya Bauer, who established the Maasai Warriors in the Rift Valley Province five years ago, told the BBC .
Cricket is being used in the pastoralist region to promote Aids awareness and campaign against female genital mutilation and early marriages among Maasai women.
The Maasai Warriors have been in the coastal city of Mombasa for the last month to raise money for their December trip and to train at cricket academy run by Mr Tikolo and other former Kenyan cricket stars.
The BBC's John Nene in Mombasa says Mr Tikolo is happy to have taken the players under his wing, but is not amused by their insistence on wearing the colourful Maasai attire.
"Cricket has its own rules that have to be followed," he told the BBC.
"I appreciate they want to sell the image of Kenya but they must play in the normal cricket uniform, and not their traditional attire."
Related Internet Links
The BBC is not responsible for the content of external sites.