Mali coup leader Sanogo 'will not cling to power'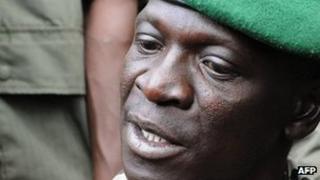 The leader of this week's coup in Mali has told the BBC that he has no intention of staying in power.
Capt Amadou Sanogo said he would stand down after making sure the army, which is fighting ethnic-Tuareg rebels in the north, was able to secure the country.
He also said former leaders would be transferred to the justice system, but the president is not believed to be in the custody of the mutineers.
Meanwhile, the African Union has suspended Mali from the organisation.
"[The] council decided Mali should be suspended from further participation in all its activities until effective restoration of constitutional order is achieved without delay," Paul Lolo, chairman of the African Union's Peace and Security Council, said.
'Comrades are dying'
A government official told the BBC on Thursday that President Amadou Toumani Toure was safe, but his exact whereabouts are still unknown, two days after he was deposed.
There are unconfirmed reports that he is in a military barracks in the capital, Bamako, being protected by members his elite presidential guard.
The European Union has suspended its development operations in Mali until the security situation becomes clear.
The BBC's West Africa correspondent, Thomas Fessy, says it appears that most low-ranking soldiers have backed the military coup but no senior officers have so far openly supported the new leaders.
The unrest began on Wednesday as the country's defence minister started a tour of military barracks north of the capital.
Soldiers upset with the government's handling of the Tuareg rebellion fired in the air during the inspection, prompting an immediate strengthening of security around the presidential palace.
The Tuaregs have forced the army out of several northern towns in recent months - and AP news agency is reporting that the group has taken another town, Anefis.
"We are not here to confiscate any power but we are here to have an army and security forces available to assume the national security," Capt Sanogo told the BBC's Focus on Africa programme.
He said the army was not up to the job at the moment as there was "a lack of equipment, a lack of training and our comrades are dying all the time".
"So once this has been fixed, I'll be able to say 'Ok, go for election' in a short period of time. I promise."
After the election of a new president he said the mutineers would go back to their units and he would be "very happy to serve as a company commander or a battalion commander".
The junta leader gave an assurance during an interview with AP that the mutineers' "aim is not to harm anyone physically".
A presidential election was due to take place in the country in just under a month.
The government had so far refused to postpone the poll, despite the unrest involving Tuareg-led rebels.