Senegal votes in presidential election run-off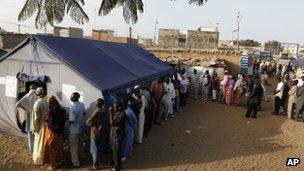 Voting has been taking place in Senegal in a run-off presidential election that has seen opposition candidates unite against incumbent Abdoulaye Wade.
Mr Wade, who has been in power for 12 years, failed to win the first round outright last month.
His opponents have gathered behind his challenger, former prime minister Macky Sall, for the run-off vote.
Mr Wade's controversial bid for a third consecutive term sparked weeks of violent protests earlier this year.
Six people were killed in those protests, but campaigning for the second round has been largely incident free.
Observers will be watching Sunday's vote closely to ensure it is free and fair as there are fears Senegal's long-established democracy could be tarnished by renewed violence, the BBC's Thomas Fessy reports from Dakar.
Queues of people were waiting to vote when polls opened just before 08:00 GMT, the AFP news agency reports.
They are choosing between Mr Wade, 85, and his former prime minister and protege, Mr Sall, 50.
Mr Wade - who fell short of a majority in the first round with 34.8% - has been touring the country seeking support from many Senegalese who did not vote last month.
But his campaign staff have denied opposition claims that he was courting local and religious leaders with cash in order to secure their votes.
Mr Sall came second in the 26 February first round with 26.6%, and secured the backing of the rest of the opposition candidates as well as the June 23 Movement (M23), which has campaigned against Mr Wade's third term bid.
Mr Sall owes his political career to Mr Wade, and had held several ministry portfolios before becoming prime minister, our correspondent says.
But, the two men fell out over the handling of public spending by Karim Wade, the president's unpopular son, whom many believe is trying to succeed his father, our correspondent adds.
Mr Sall has promised that, if elected, he will shorten the presidential term to five years from the current seven, and enforce a two-term limit. He has also promised to bring in measures to reduce the price of basic foodstuffs.
Senegal's constitutional court ruled in January that Mr Wade could stand again on the grounds that his first term had not counted since it began before the two-term limit was introduced in 2001.
But critics fear he is simply following in the footsteps of other long-serving African leaders who have sought to hold on to power.
Senegal, a former French colony, is seen as a stable democracy with an unbroken series of elections since independence in 1960.
It remains the only West African country where the army has never seized power.
Related Internet Links
The BBC is not responsible for the content of external sites.