South African Motherwell rugby players in drowning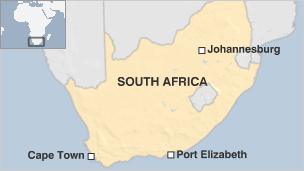 A South African club rugby player drowned and five of his team-mates are missing feared dead after being swept out to sea off the south coast.
The players from Motherwell Rugby Club went swimming following a beach practice session in Port Elizabeth.
South African Rugby Union President Oregan Hoskins called it a "tragedy".
Fifteen people, including members of the public, were rescued after being pulled out to sea at Blue Water Bay Beach.
The National Sea Rescue Institute (NSRI) saved those caught up in rip currents shortly after midday on Sunday, the South African Press Association (Sapa) said.
The dead man and the five still missing are all thought to be in their early 20s.
A rescue helicopter and emergency patrol boats are scouring the waters off Port Elizabeth to find the missing.
Mr Hoskins told Sapa: "These young men were preparing to compete in a Saru [South African Rugby Union] Easter Tournament in Cape Town in a fortnight and were enjoying a carefree day on the beach with their team-mates.
"To have their afternoon turned into a day of tragedy is shocking for the whole rugby community and our thoughts and prayers go out to their families."
Related Internet Links
The BBC is not responsible for the content of external sites.