Senegal proud of peaceful election after Macky Sall win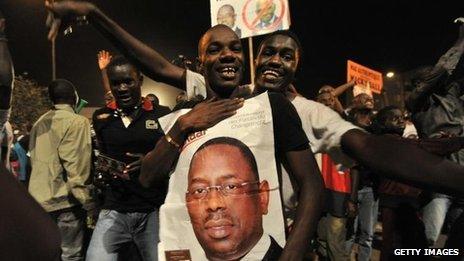 As the Senegalese celebrate an election which seems to have had a peaceful outcome, with the incumbent accepting defeat, the overwhelming feeling is one of great relief.
People are simply glad that months of electoral tension, which led to the deaths of at least six people, is over.
After news broke that President Abdoulaye Wade had conceded, motorists honked their horns while those on motorbikes proudly waved the Senegalese flag.
Following a brief address in front of local and international reporters in a tent erected in the backyard of Radisson Hotel, President-elect Macky Sall joined thousands of supporters who had gathered outside his campaign's headquarters.
Some of the opposition candidates who were defeated in the first round joined the party too.
"A new Senegal with President Macky," shouted pop star Youssou Ndour, who was barred from running in the presidential race and then threw his support behind Mr Sall.
Earlier in the evening, as the local media were still tallying the vote, Mr Wade, made a personal phone call to Mr Sall and congratulated him.
Mr Wade, 85, admitting his defeat was like releasing pressure from a can of soda.
The EU and African Union have hailed Senegal's election as a victory for democracy in Africa - and a model for others to follow.
The run-off was held just three days after the army seized power in neighbouring Mali.
"We are almost jealous of our Senegalese brothers," said Mahamadou Camara, a close ally of Ibrahim Boubacar Keita, a former prime minister and favourite in the presidential election that was scheduled for the end of April.
"While Senegal moves forward, we've just made a 20-year jump backwards," he said, referring to the year the first democratic election was held in Mali following the overthrow of the then military ruler.
"It's a very nice example which must inspire us all," Mr Camara told me by telephone from the capital, Bamako.
Senegal's neighbour to the south, Guinea-Bissau, has also been plunged into uncertainty after opposition candidate Kumba Yala said he would boycott a run-off vote.
He alleges serious fraud in the first round in the country which has seen a succession of military coups, where the army remains the most powerful body in the country and which is considered a haven for Latin American drug smugglers.
Further east, Senegal's long-time rival for supremacy in French-speaking West Africa, Ivory Coast, is slowly rebuilding after months of violence followed the December 2010 election.
Some 3,000 lives may have been saved if then President Laurent Gbagbo had acknowledged that he had been defeated and given Alassane Ouattara a phone call to congratulate him.
Instead, Mr Gbagbo's men snatched the paper with the results from the hand of the electoral commission spokesman and tore it up live on television.
The crisis only ended with the intervention of troops from France and the United Nations.
Mr Gbagbo is now facing war crimes charges at the International Criminal Court.
In contrast, people in Senegal considered their voter card their best "weapon", as the Enough is Enough movement led by young angry rappers kept singing over the past year while opposition grew to Mr Wade and especially his reported plans to install his son, Karim, in his place.
Pre-election street protests never reached the scale seen during Arab revolutions last year even if some young demonstrators liked talking about a "Senegalese spring".
At times, protesters were outnumbered by journalists and riot police. A small group of rioters sang "Goodbye - See you tomorrow," to a cordon of security forces in central Dakar while clearing up a thick mattress of stones on the street.
This was the last protest before the first round in February and the discipline of the protesters was stunning.
Despite widespread fears of attempts to rig the poll and a possible outbreak of violence, in the end the Senegalese used their ballot to vote the "old man" out of power.
Senegal remains the only country in West Africa never to have suffered a military coup or a full-blown civil war reaching the capital.
Mr Wade's attempt to extend his 12-year rule was condemned as a "constitutional coup" and Sunday's election was a clear referendum against him.
And while some are euphoric at Mr Sall's victory, other are more down to earth, pointing out that the real lesson of this election is the mundane one that the people have the power to change their leaders.
"Macky Sall was politically shaped by Wade, this is no change," says Marie-Joseph Niandio, a 54-year-old cleaning lady and mother of three.
"We will see what he will do but for now we don't trust him.
"But what matters is that we ousted Abdoulaye Wade because while the elite around him got richer and richer, we now struggle to put food on the table; he needed to go".
Related Internet Links
The BBC is not responsible for the content of external sites.