Mali suspended from regional bloc Ecowas over coup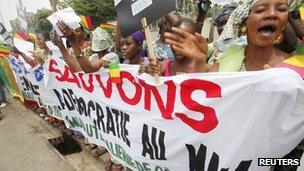 The West African regional body Ecowas has suspended Mali after last week's military coup.
A delegation of several Ecowas heads of state is to go to Mali to press the coup leaders to restore democracy.
Meanwhile, coup leaders announced details of a new constitution in a televised statement, and pledged freedom of speech and movement.
But there was no suggestion that the previous government would be restored, as demanded by Mali's neighbours.
The coup was led by soldiers unhappy with the way President Amadou Toumani Toure's government had been handling a Tuareg insurgency in northern Mali.
Mr Toure, a former army officer, was due to step down next month after two terms in office.
The decision to suspend Mali was taken at an emergency meeting of Ecowas held in Abidjan in the Ivory Coast.
"We cannot allow this country endowed with such precious democratic instruments, dating back at least two decades, to leave history by regressing," said Alassane Ouattara, the president of Ivory Coast who is the rotating chair of Ecowas.
"It's why Mali needs to immediately return its democratic institutions to normal," said Mr Ouattara. "This position is non-negotiable."
The body also announced that it had put regional troops on standby, should military intervention be necessary.
The African Union had also described the coup as a "significant setback" for the country, and the move has attracted widespread international condemnation.
Mr Ouattara is expected to be in the Ecowas delegation to Mali, along with the heads of state of neighbouring Benin, Burkina Faso, Niger and Liberia.
Just hours after the announcement by Ecowas, the ruling military said a new constitution would come into effect for the transitional period.
Appearing on state television, an army lieutenant read out the text of 69 articles which the new rulers said was intended to restore rule of law to the country.
The new constitution states that no member of the ruling junta would be eligible to compete in elections, but it did not say when polls might be held.
Throughout the transition, it said, the junta's leader, Captain Amadou Sanogo, would be "head of state", and would appoint a government.
Earlier on Tuesday, the coup leaders announced that a curfew imposed when they seized power last Wednesday would be lifted.
Meanwhile, the French foreign ministry said it had been in contact with Mr Toure and that he had assured them he was safe.
His whereabouts remain unknown after he was ousted after mutineers stormed the presidential palace last week.
Related Internet Links
The BBC is not responsible for the content of external sites.