Nelson Mandela digital archive launched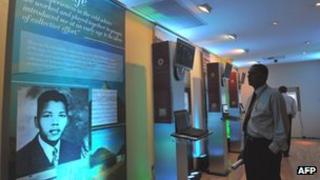 An extensive digital archive documenting former South African President Nelson Mandela's life has been launched on the internet.
Almost 2,000 entries have been made available for scholars and researchers.
Images of the cell on Robben Island, near Cape Town, in which he spent many of his 27 years in jail are among the material stored on the archive.
The plan was announced a year ago with $1.25m (£790,000) in funds from internet firm Google.
It also includes thousands of handwritten documents such as Church membership cards from 1929, notes on political negotiations, and what appears to be a draft of a 1995 letter to a young admirer about Valentine's Day.
"We believe in the power of digital technologies in bringing the legacy of Madiba [Mr Mandela's clan name] to the masses," AFP news agency quoted Mark Yoshitake, who managed the project, as saying.
"It is content that has never been digitised before, content that has never been accessible before."
The contents, which are stored in the Nelson Mandela Foundation Centre of Memory in Johannesburg, are also free of charge anywhere in the world.
As well as collating the documents, the centre runs outreach programmes to help communities that may not have internet connections to experience the archive.
While Google helped assemble the collection online, staff at the centre determined what content to show and how it is presented, the centre's Verne Harris said.
Similar Google projects include the Dead Sea Scrolls and a Holocaust archive, partnered with the Vad Yashem centre.