Macky Sall Senegal win confirmed by official poll results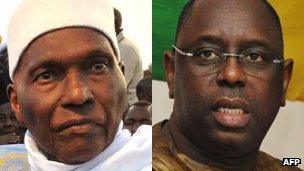 Senegalese politician Macky Sall has won a crushing victory over veteran leader Abdoulaye Wade in the country's presidential election.
Official results showed he won 66% of the vote compared with Mr Wade's 34%.
Mr Sall, a former prime minister, will assume office after his inauguration on 3 April.
Mr Wade, 85, who had been in power for 12 years, conceded defeat just hours after polls closed on Sunday. The poll was praised by observers as being fair.
Thijs Berman, head of the European Union's observer mission which had over 90 observers in Senegal, said the campaign and election had been relatively trouble-free.
He said there were a few minor incidents of vote buying and use of state resources by both sides.
"It was a credible vote and the result was accepted by all," the Reuters news agency quoted him as saying.
The African Union said the peaceful conduct of the presidential elections "proved that Africa, despite its challenges, continues to register significant progress towards democracy and transparent elections".
Mr Wade brought in a two-term limit for presidential office, but argued that the limit should not apply to his first term which came in before the constitution was changed.
His argument was upheld by the constitutional court in January, prompting widespread protests in which six people died.
Related Internet Links
The BBC is not responsible for the content of external sites.