Malian junta unveils constitution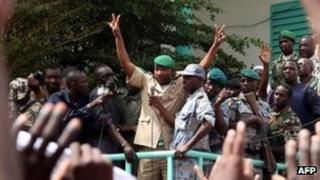 The leaders of a military coup in Mali have unveiled constitution, a week after seizing power.
They have also announced elections in which those who took part in the coup would be barred from standing, but have not set a date for them.
Several thousand people rallied in the capital Bamako on Wednesday in support of the new military leaders.
The coup was led by soldiers unhappy with the previous government's handling of a Tuareg insurgency in the north.
Appearing on state television, an army lieutenant read out the text of 69 articles that the new rulers said were intended to restore rule of law to the country.
Throughout the transition, it said, coup leader Captain Amadou Sanogo would be head of state and would appoint a government.
The new constitution provides for a transitional committee composed of 26 members of the security forces and 15 civilians to take power.
Those who serve on the committee will be given immunity from prosecution.
Some of the document is similar to Mali's current constitution, including guarantees of freedom of speech, thought and movement.
Supporters rally
Meanwhile, several thousand people gathered in Bamako in support of the coup, and to protest against "foreign interference" in Mali.
"They [the coup leaders] should stay to resolve the problems in the north, corruption and education. That is more important than elections," one protester, Khalifa Sogo, told Reuters news agency.
"We, the youth, can live without the international community. We have been living with our eyes closed but now we are waking up," said another protester, Oumar Diara.
The coup has been heavily criticised by Mali's neighbours in the regional bloc Ecowas, from which Mali has been suspended, and by Western countries.
Ecowas has announced that it had put regional troops on standby in case military intervention becomes necessary.
A delegation of several Ecowas heads of state is due to go to Mali to press the coup leaders to restore democracy.
Burkinabe Foreign Minister Djibril Bassole told French radio that Ecowas leaders were pushing for a transitional government led by the speaker of Mali's parliament, Agence France Presse reports.