Mali coup: West African leaders abandon visit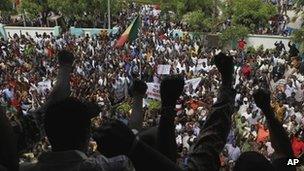 A delegation of West African leaders has abandoned its trip to Mali to negotiate with the leaders of last week's coup owing to security fears after a protest by junta supporters.
Dozens of people got onto the airport runway in Mali's capital, Bamako, prompting the presidential plane to turn round in mid-air.
The leaders returned to the Ivory Coast city of Abidjan, where they held talks.
Mali's neighbours have already told the junta to step aside.
They have placed a peacekeeping force on standby.
BBC West Africa correspondent Thomas Fessy says the cancellation of the trip is a diplomatic blow to the regional leaders.
The delegation was led by Ivory Coast President Alassane Ouattara, current chair of the Economic Community of West African States (Ecowas), with at least three other heads of state due to join him in Bamako.
But dozens of supporters of coup leader Capt Amadou Sanogo stormed the airport runway, chanting: "Shame on Ecowas. Mali is for us," witnesses told the AP news agency.
Capt Sanogo then reportedly managed to persuade them to move but the West African leaders had already turned round.
"The meeting [in Bamako] was cancelled for security reasons," said Ivory Coast's Minister of African Integration Adama Bictogo, who had flown in earlier.
"When we arrived this morning we saw that the security hadn't been organised and that around 100 people had managed to get on the tarmac. This prevented the plane from landing, and there was hostility in the air," he said.
On Wednesday, President Ouattara said that Mali's democracy could not be abandoned.
"We cannot allow this country endowed with such precious democratic instruments, dating back at least two decades, to leave history by regressing," he said.
"It's why Mali needs to immediately return its democratic institutions to normal."
Some analysts have said that the presence of the peacekeeping force suggests that the body may be willing to use force if Capt Sanogo does not agree to step aside.
The coup leaders have unveiled a new constitution as well as announcing elections in which those who took part in the coup would be barred from standing. However, no date has yet been set.
The coup was led by soldiers unhappy with the way Mr Toure's government had been handling a Tuareg insurgency in the north.
The Tuareg rebels have forced the army out of several northern towns in recent months.
Under the new constitution, a transitional committee composed of 26 members of the security forces and 15 civilians will take power.
Those who serve on the committee will be given immunity from prosecution.
Some of the document is similar to Mali's current constitution, including guarantees of freedom of speech, thought and movement.
Ousted President Amadou Toumani Toure - widely known as ATT - said on Wednesday that he remained in the country, free and in good health.
"I think the most important thing today is that we should, through consensus, find a way out of this crisis. The most important thing is not ATT, not the man. What is important is democracy, our institutions, Mali," he told French radio network RF1.
Related Internet Links
The BBC is not responsible for the content of external sites.