Senegal swears in new president Macky Sall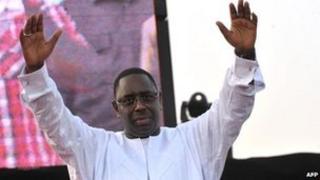 The new president of Senegal, Macky Sall, has been sworn into office to become the country's first new leader in 12 years.
Around 2,000 people attended the ceremony, including 11 African heads of state, and crowds of people lined the streets to cheer Mr Sall.
He beat the outgoing president, Abdoulaye Wade, in a second round run-off vote last month.
Mr Wade's peaceful acceptance of defeat won him plaudits from around the world.
He had previously been criticised for trying to stay in office for a third term.
The Senegalese constitution states presidents can only serve two terms but Mr Wade argued that, as this rule was only introduced in 2008, it should not be applied retrospectively to include his first term in office.
The new leader, 50-year-old Macky Sall, has in the past served as prime minister.
At the ceremony he pledged to "observe and enforce the constitution" while defending the country's "territorial integrity".
He is Senegal's fourth president since the west African nation gained independence from France in 1960.