Senegal musician Youssou Ndour given ministerial post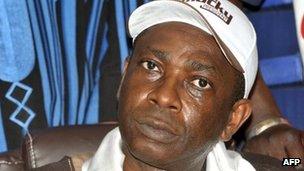 Senegalese musician Youssou Ndour has been appointed tourism and culture minister in the cabinet of new President Macky Sall.
One of Africa's most successful singers, Mr Ndour, 52, threw his weight behind Mr Sall in elections earlier this year after being disqualified from running as a candidate himself.
Mr Sall, 50, was sworn into office on Monday.
He beat the incumbent, Abdoulaye Wade, in a run-off vote last month.
Mr Wade, 85, was criticised for competing for a third term in power, but was credited after the poll for peacefully accepting defeat.
The Grammy-award winning Mr Ndour is one of 25 new appointees to the cabinet headed by Prime Minister Abdoul Mbaye.
Senegal's Constitutional Council had barred him for running in the polls on the grounds that he had failed to provide enough valid signatures to back his application.
The BBC's Thomas Fessy in Dakar says Mr Ndour is very popular in Senegal, where he owns an influential media group, a night club and a music studio.
The singer comes from a modest family background and left school with few qualifications but he is considered a fine businessman, our correspondent says.
Earlier this week, in celebration of Mr Sall's victory, Mr Ndour performed live in in one of the main squares in the capital, Dakar, where opposition supporters often clashed with security forces during the election campaign.
Related Internet Links
The BBC is not responsible for the content of external sites.