Malawi's new president sacks police chief Mukhito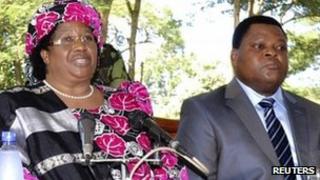 Malawi's new President Joyce Banda has sacked the country's police chief Peter Mukhito, state media have reported.
Ms Banda was sworn into office on Saturday following the death last week of President Bingu wa Mutharika.
She had been vice-president since 2009, but had fallen out with Mr Mutharika and left his ruling party.
No reason was given for Mr Mukhito's removal, but a BBC reporter says he had been accused of mishandling anti-government riots last year.
Mr Mutharika, 78, went into cardiac arrest on Thursday, although his death was not confirmed until Saturday.
He governed Malawi for eight years, but was recently accused of mismanaging the economy and becoming increasingly autocratic.
Lecturer row
Last year Mr Mutharika fell out with the UK, the former colonial power, which withdrew its direct aid, accusing the Malawian government of mishandling the economy and of failing to uphold human rights.
The country has suffered shortages of fuel and foreign currency since the UK and other donors cancelled aid.
The BBC's Raphael Tenthani in Blantyre say the former inspector general of police first gained notoriety last yearwhen he questioned a lecturer over comparisons he made between the uprisings in Tunisia and Egypt and the fuel crisis in Malawi.
The row eventually led to the closure of the University of Malawi's Chancellor College.
Last July, at least 19 people were shot dead by police during anti-government protests over the worsening economy.
Following the president's death, there was speculation that Mr Mutharika's inner circle was trying to circumvent Malawi's constitution to prevent Ms Banda from taking over and instead install his brother, Foreign Minister Peter Mutharika.
Officials say preparations are being made to bring President Mutharika's body back from South Africa, where he was taken after his cardiac arrest.
Malawi is one of the poorest countries in the world, with an estimated 75% of the population living on less than $1 (60p) a day.