Sudan troops 'advance on Heglig oil field'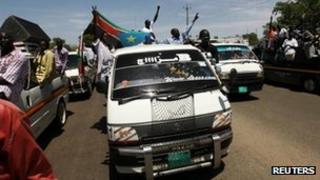 The Sudanese government says its forces have launched a counter-attack on oil fields on its disputed border, occupied on Tuesday by South Sudan.
Sudan's military spokesman told the BBC that troops began advancing at midday, aiming to retake the town of Heglig.
South Sudan's spokesman said he was not aware of the fighting, but said his troops would only leave if defeated.
Earlier, South Sudan offered to leave the oil field on the border with Sudan, if peacekeepers were deployed there.
In return, it wanted guarantees the Heglig field would not be used as a base for cross-border attacks.
Troops 'advancing'
The BBC correspondent in Khartoum says Sudan is very unlikely to agree to the deployment of an outside force.
There is no independent confirmation of the Sudanese troop movements.
The Sudan military spokesman, Col Sawarmi Khalid Saad, said he expected "good news" in the next few hours.
He said Sudanese troops were on the outskirts of Heglig, and were advancing, according to the Reuters news agency.
Heglig is vital because it accounts for about half of Sudan's 115,000 barrel-a-day oil output, Reuters reports. The fighting has stopped production there, officials say.
The UN Security Council has demanded the withdrawal of South Sudanese troops from Heglig.
It also demanded an end to bombing of South Sudanese territory by Sudan's air force, saying there should be an immediate and unconditional end to fighting on Sudan's southern border.
Sudan denies launching air strikes.
War fears
South Sudanese troops have been deployed in the Heglig field since Tuesday.
A presidential press statement said the South Sudanese had to be sure Heglig would not be used as a base for cross-border raids against them.
Asking for UN peacekeepers to be deployed until a political solution is found, it pointed out that Sudan's army still occupied the disputed border area of Abyei, despite repeated calls for it to pull out.
Abyei is just to the west of Heglig.
The African Union Peace and Security Council has called the occupation of Heglig "illegal and unacceptable", and also condemned Sudan for carrying out aerial bombardments of South Sudan.
On Thursday, the UN Security Council called for an "immediate" ceasefire and expressed "deep and growing alarm at the escalating conflict".
The fighting of the last few days has so far been contained to a limited area, the BBC's James Copnall reports from the Sudanese capital, Khartoum.
But it has dramatically increased the chances of a return to all out-war, our correspondent adds.