Husband and wife team survive Ivory Coast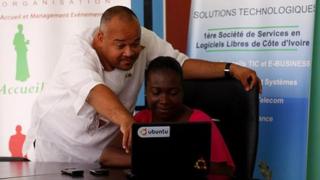 Husband and wife team Christian and Sandrine Roland run the Alpha Omega Services (AOS) information technology group in the Ivory Coast city of Abidjan. They started business at the end of the 1990s - at a time when the country was going into the worst few years of its history - but they have emerged with their enterprise intact and growing.
They seem to have endured the hardship and instability resulting from their country's civil conflict with the same aplomb and determination that they showed from the moment they decided to start a company of their own.
According to them, one of the lessons that they learned early on is that you have to fight for your dreams even if your loved ones oppose them.
The idea to set up the business started when - as students in the same faculty at the University of Laval, in Quebec City, Canada - they worked on a marketing project together.
She had been studying for a first degree in marketing and a master's in communication, he for a bachelor's degree in marketing and information technologies (IT), and their families back home expected them to work for big private companies upon graduation.
"We built the project. We presented it to our professor and then after university we started launching it step by step," Mr Roland told the BBC's African Dream series.
"I think we were influenced by the North American way of thinking. We were taught that entrepreneurship is good… that you have to do your own thing, and create jobs and develop the economy of your country," his wife added.
From IT to real estate
After completing their studies, they returned to Ivory Coast.
"When we finished school even our parents were surprised that he wanted to go straight into his own business. Me, I wanted to work first [as an employee] but the project of creating my own business was already there," Mrs Roland told the BBC Africa's John James.
Although Mr Roland's father was against the idea, his mother was more open to it and helped him with some capital to start his first company, Assist, in 1999.
In 2004, the IT firm became the country's first Open Source provider. At the moment, it offers services in web design, internet engineering, information systems and community management.
In the meantime, Mrs Roland was employed in the advertising sector but in 2006 she opened her own agency, Intuition, which deals with communication strategies, corporate identity and publicity.
They launched two other companies - AOS Event Management, and real estate firm XPERBAT - and in 2009 put the four businesses under one roof, the AOS group which currently employs 30 people on a permanent basis and sometimes hires up to 500 temporary staff.
They say that they have a partner in one of their companies but the rest was financed by reinvesting the money they make, without any bank loans or investment funds' support.
'A daily miracle'
Their journey to success and growth has not been an easy one.
"We started in 1999. Just after a few months there was the first war, then in 2002 the second war, so the environment was very hard but we are still here," Mr Roland said.
"It was really a daily miracle. And also making enough money to pay the charges because you have to pay the salaries, pay the taxes, pay everything - electricity, rent - and it was really a struggle," his wife recalls.
According to her, the worst crisis they have faced has been the most recent one, after the 2010 presidential elections when the incumbent, Laurent Gbagbo, refused to concede victory to the internationally recognised winner, Alassane Ouattara.
"Even through that, we went through and we're happy now that we can look forward because a few months ago we did not have any visibility, but now we can look forward and we know that it's going to get better," she said.
They agreed that their faith in God and in their creativity has helped them to go ahead through the most difficult times.
Currently, they are looking at ways of strengthening their base in Ivory Coast and developing their presence in other parts of West Africa.
And what advice would they give to aspiring entrepreneurs?
"Don't listen to people. Just make what you can do to make your dream come true," Mr Roland told BBC Africa.
He said that had he followed other people's suggestions when he started, he would probably be a director in a big private company but would not have his own business.
"Keep going, keep struggling because all of us, we have the capabilities, we have the capacity, we have the energy… and also keep learning because you never know everything," his wife added.
African Dream is broadcast on the BBC Network Africa programme every Monday morning.
Every week, one successful business man or woman will explain how they started off and what others could learn from them.