Malawi leader Mutharika's body returns from South Africa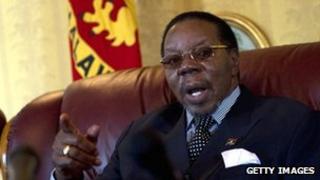 The body of Malawi's late President Bingu wa Mutharika has been flown home from South Africa.
Thousands joined new President Joyce Banda at Kamuzu airport to receive the South African military aircraft.
Mr Mutharika, who was 78, suffered a heart attack on 5 April and was flown to South Africa. His death was confirmed two days later.
The delay in announcing his death had prompted fears of a power struggle until Ms Banda was sworn in on 7 April.
Ms Banda had been vice-president since 2009 but fell out with Mr Mutharika in 2010 and became one of his fiercest critics.
'Authoritarian'
Malawi's armed forces mounted a guard of honour for the former president and sounded a 21-gun salute as South African military personnel handed over his coffin draped with the Malawian flag on the airport tarmac.
His body will now lie in state in the capital, Lilongwe, and elsewhere in the country before a funeral on 23 April.
Mr Mutharika, a former World Bank economist, came to power in a 2004 election, after being backed by outgoing President Muluzi.
Following his re-election with a large majority in 2009, critics allege he demonstrated an increasingly authoritarian streak.
He had been under mounting pressure to resign, amid accusations of nepotism and economic mismanagement.
The criticism has led to a souring in relations with major foreign aid donors, especially the United Kingdom.
Malawi is one of the poorest countries in the world, with an estimated 75% of the population living on less than $1 (60p) a day.
The country has suffered shortages of fuel and foreign currency since the UK and other donors cancelled aid.