Mali's Amadou Toumani Toure in Senegal's embassy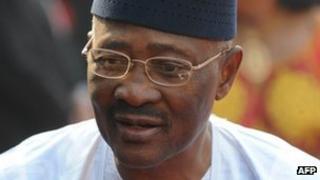 Mali's ousted leader is in the Senegalese embassy, Senegal's President Macky Sall has told a press conference with French President Nicolas Sarkozy.
"President Amadou Toumani Toure [is] at this moment on the territory of the residence of the embassy of Senegal in Bamako," Mr Sall said in Paris.
Mr Toure's whereabouts since last month's military coup were unknown.
The news he is in a foreign embassy comes after the arrest this week of several of Mr Toure's political allies.
'Troubling situation'
Mr Toure formally resigned on April 8, as part of a deal for the soldiers to hand back power.
Former Prime Minister Modi Sidibe was picked up by men in military police vehicles and reportedly taken to Kati, just outside the capital, Bamako, where soldiers who staged the take-over have set up their headquarters.
Mr Toure's Defence Minister Sadio Gassama and the man responsible for the ex-president's personal security chief of staff Gen Hamidou Sissoko are also being detained by the military.
"This is a troubling situation," said Mr Sall, who came to power in an election just days after the coup in neighbouring Mali.
He also said West African leaders were "trying to find a rapid and peaceful solution first of all internally so we can return to the normal constitutional regime and then deal with the partition of Mali."
Since the coup, ethnic Tuareg and Islamist militants have taken control of much of the northern desert region.
The Tuaregs have declared independence for the region - a move resisted by the civilian and military authorities in Bamako, as well as the Islamist group Ansar Dine, which is said to have links to al-Qaeda's North-West African franchise, al-Qaeda in the Islamic Maghreb.
Mali's interim leaders, President Dioncounda Traore and Prime Minister Cheick Modibo Diarra, have the task of organising elections and ending the northern rebellion.