Genocide suspect Uwinkindi sent for trial in Rwanda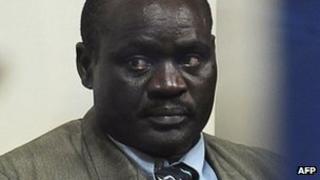 The Tanzanian-based UN tribunal trying Rwandan genocide suspects has for the first time sent a suspect back to Rwanda for trial.
His legal team had said Jean-Bosco Uwinkindi would not get a fair trial in Rwanda, where he was once a pastor.
He is accused of ordering the killing of ethnic Tutsis after they sought refuge in his church.
About 800,000 Tutsis and moderate Hutus were killed by Hutu militias in 100 days in the Rwandan genocide in 1994.
'Corpses near church'
The BBC's Prudent Nsenga in the Rwandan capital, Kigali, says Mr Uwinkindi was met at the airport by a delegation of Rwandan officials - including the country's prosecutor, who called his arrival a "landmark day for Rwandan justice".
On Tuesday, the former pastor lost his appeal against a transfer ruling by the International Criminal Tribunal for Rwanda (ICTR).
The ICTR - set up in Arusha shortly after the 1994 genocide - is due to wind up its work by the end of 2014, by which time all cases should have been transferred to national jurisdictions.
Mr Uwinkindi is accused of being one of the main perpetrators of the genocide.
The prosecution alleges that in investigations after the genocide, some 2,000 corpses were found near the church in Kanzenze, just outside Kigali, where he was pastor.
Mr Uwinkindi was indicted in 2001 and arrested last year when he entered Uganda from the Democratic Republic of Congo.
Until his arrest by Ugandan police, Mr Uwinkindi was one of the ICTR's 11 most-wanted suspects.
He has denied the genocide charges.