Nigeria: Maiduguri bakers shot by 'suspected Islamists'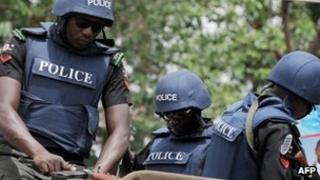 Five bakers in Nigeria have been killed by gunmen in the north-eastern city of Maiduguri - a base of the Islamist Boko Haram sect, police have said.
Their deaths follow the assassination of a customs officer and water vendor on Wednesday by suspected militants.
The group has carried out a series of deadly attacks in northern Nigeria in the past 19 months - often targeting officials and security officers.
Boko Haram says it wants to establish Islamic law in Nigeria.
Correspondents say a security crackdown seems to have led to fewer attacks in recent weeks, but the uprising remains a huge challenge for the authorities.
Borno state police spokesman Samuel Tizhe said it was not clear why the gunmen had opened fire on the bakery on Thursday.
Boko Haram - whose means "Western education is forbidden" - has attacked churches and this year began to target schools.
The group first came to prominence in 2009 when hundreds of its followers were killed when they attacked police stations in Maiduguri.
Its founder, Mohammed Yusuf, was arrested but died in police custody.
In 2010 the group started to stage drive-by shootings on government targets in revenge for his killing.
Last year, it carried out suicide bombings on high-profile targets such as the headquarters of the UN and police in the capital, Abuja.
Their attacks, mostly in the north of the country, have killed hundreds of civilians, both Muslim and Christian.