Mozambican entrepreneur fishes for clients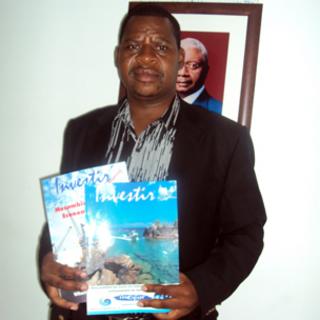 Mozambique's Evaristo Cumbane believes that running a business magazine is like fishing in the high seas.
For more than a decade he was a radio journalist but one of his dreams was to run his own business and he made it come true five years ago when he started a publication to promote investment in his country.
The magazine, Investir, covers different sectors such as agriculture, industry, infrastructure, mining and tourism.
His company, Investir Lda, currently employs only three people on a permanent basis but has several collaborators.
Mr Cumbane told the BBC's series African Dream that his employees are "people with the same vision as mine, people like fishermen".
"All of us have to go to the sea and extend the net and look for fish, instead of sitting down and wait for the fish that is being brought.
"So we have to go out, bring clients together. It's not up to the director alone to bring clients. All of us have to be prepared to face the winds and to face the waves in high seas".
He warns budding entrepreneurs against employing too many people while their business is starting to take off.
"Make sure first that your business is stable, the business is guaranteeing a permanent cash flow, otherwise you'll find yourself in the newspapers or television, that so-and-so is not paying his staff, so I'm very careful with that," he said.
Private sector
According to him, when he began publishing Investir in 2007 the only other magazine in the country was the in-flight one from the national carrier, Mozambique Airlines.
"We started at that time trying to involve the private sector to support this initiative, as the magazine itself is not for sale, it's for free distribution," he told the BBC Africa's Jose Tembe.
"So we had to rely on sponsorships and advertisements from the private sector," he continued.
Mr Cumbane said that he started with the minimum capital which was required by law as a deposit at the time, 20,000 meticais ($720, £450).
He pointed out that they had many obstacles at the beginning, including some imposed by competition.
"When I launched the magazine first, then other people started imitating the business and this caused us to have a small break just to rethink, to make sure that we produce something that will scare away all competitors.
"We are coming now with a brand-new style magazine which people when they'll see it they'll say: 'Yes, this is real business'," he said.
Also, after a while they realised that the magazine alone could not sustain the company.
"We started introducing other services, including translations from Portuguese to English, designing to produce magazines for others, to produce books for others, to do their layout, printing as well - we represent a big South African printer - so in conjunction with the printer we managed to get some business across South Africa," the entrepreneur explained.
Under pressure
Mr Cumbane believes that, to keep themselves afloat, business people must be ready to reinvent themselves.
"When you start a business you always start with some estimate, with some forecasts of cash flow, how are you going to get the money, and so on, but usually your estimates prove to be wrong and when that happens you are under pressure because the expenditure continues while the cash flow does not follow the pace," he said.
"So, at that stage you've got to think twice, you have to strategise, you have to think of new products, new things to introduce, otherwise you close the business because the main purpose of doing business is to generate profit. If you're not generating profit then you're not doing business, so you have to go home."
In spite of his setbacks - or probably because of what he has learned from them - he likes encouraging others to start their own businesses.
"We have to be creative and we have to create jobs as well. Many people, after finishing their training, usually they look for jobs in already established companies without realising that they themselves could set up a small business and employ other people who are looking for jobs.
"Of course I know why they are not doing that. It's not easy to do that in Mozambique - first because of the market. It's a very small market, small in terms of economic capacity, but you need to be courageous. If you fight, you win; if you look forward, you find it; if you knock, the door will be open for you".
He says that people are wrong to think that they need a lot of capital to create their own companies.
"You don't start a business with a lot of money. That's why you start a business. Otherwise you wouldn't start a business since you have a lot of money, you'd just deposit it in a bank and then you get interest.
"Always we start a business with little money but you need to be persistent, don't look at obstacles, don't look at the difficulties in the market, continue improving your product, improving your service, to make sure people realise that your service, your product is relevant to them."
His long term vision is to get Investir Lda into the Southern African Development Community (SADC) market.
But he said that he will eventually go back to radio journalism.
"I haven't left. I've just interrupted it for a while because later I'll go back to radio.
"That's what I was trained for. Doing radio and using, of course, my wonderful voice," he added laughing.
"To entertain people and inform people, that's what I like, but I needed to experiment with new things, new challenges."
African Dream is broadcast on the BBC Network Africa programme every Monday morning.
Every week, one successful business man or woman will explain how they started off and what others could learn from them.