Satellite tracks Sudan oil damage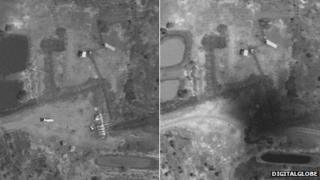 Satellite pictures of the disputed border area occupied by South Sudan for 10 days suggest key oil installations have been badly damaged.
The pictures appear to show significant parts of the Heglig oilfield in Sudan are no longer operating.
They were analysed by the US-funded Satellite Sentinel Project (SSP) , which says it is impossible to know who was responsible for the damage.
Sudan and South Sudan have accused each other of attacking oil facilities.
Access to the disputed border region around Heglig is limited, making it difficult to verify what is happening in the area.
The pictures provided by SSP suggest that the oil industry has been deliberately targeted.
'Runway lengthened'
One picture appears to show an oil collection point at the end of two pipelines has been destroyed, leaving charred wreckage over a wide area.
SSP says it is impossible to know whether the damage was done by aerial bombing or ground attacks.
Others show tanks, smoke rising from explosions that are consistent with aerial bombing, and cratering.
There are also pictures showing that the Sudan Air Force runway in South Kordofan has been paved and lengthened to allow Antonov bombers to land there.
SSP, which was set up to campaign against the return to full-scale civil war between the two countries, used pictures from DigitalGlobe satellites, which were analysed by the Harvard Humanitarian Initiative.
SSP receives funding from the Not on Our Watch project, founded by US activists including the actors George Clooney, Brad Pitt and Matt Damon.
On Friday South Sudan said it would withdraw from the Heglig area, while Sudan said its forces had re-taken control of the area.
The area north of the disputed border provides most of of Sudan's oil output, and is a crucial part of its economy.
BBC regional analyst Grant Ferrett says the pictures suggest the after-effects of South Sudan's brief occupation could last some time, further undermining relations between the two countries.