Malawi's Bingu wa Mutharika buried on his farm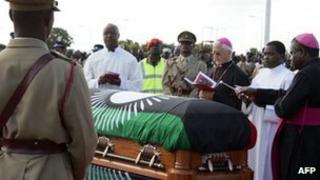 Former President Bingu wa Mutharika, who died on 5 April after a cardiac arrest, has been buried at his sprawling farm in southern Malawi.
Mr Mutharika was laid to rest next to his first wife Ethel in a huge white marble mausoleum called the Taj Mahal by local media.
Thousands of mourners and several African heads of state, including his close ally President Robert Mugabe of Zimbabwe, attended the state funeral.
Mr Mutharika led Malawi from 2004.
'Dream in colour'
Malawi's new President Joyce Banda, who led the mourners, evoked her predecessor's favourite mantra: "Malawi is not a poor country but Malawians are poor."
"President Bingu wa Mutharika taught me and all Malawians to dream, he taught us not only to dream but also to dream in colour," she said.
The BBC's Raphael Tenthani at Ndata estate says at least 3,000 people attended the funeral, including politicians and villagers from the surrounding tea-growing district of Thyolo.
Monday was declared a public holiday to honour the former president.
Thousands more have paid their respects to Mr Mutharika over the past week, as his body lay in state in the capital, Lilongwe, the northern city of Mzuzu and the commercial capital, Blantyre.
Mr Mutharika bought the cattle and maize farm in 2004, where he built an imposing mansion he called the White House.
The mausoleum - officially called "Mpumulo wa Bata" or "Peaceful Rest" - was built for him and Ethel, his Zimbabwean wife of 37 years who died from cancer in 2007.
He married Callista Chapola-Chimombo, a former tourism minister in 2010.
Identity disguised
Our correspondent says that, alongside Mr Mutharika's brother Peter, Ms Chapola-Chimombo led the visiting African leaders as they paid their respects at the open casket of the former president, who was a church-going Catholic.
Peter Mutharika, the country's foreign minister, was anointed as heir-apparent for the 2014 elections when his brother was due to retire.
In the wake of Mr Mutharika's death, there were concerns that Peter Mutharika's allies would try to stop the constitutional transfer of power to the then Vice-President Joyce Banda - who had fallen out with the former president and publicly opposed the plans for a Mutharika dynasty.
Mr Mutharika was born Ryson Webster Thom in 1934.
The schoolmaster's son changed it to Bingu Mutharika during the 1960s as pan-Africanism swept across the continent.
He added the prefix "wa" to disguise his identity from Malawi's first ruler Hastings Kamazu Banda's state security agents, who were hunting down his opponents around the world.
A former economist, Mr Mutharika was credited for revitalising a moribund agricultural sector during his first term.
That recovery was short-lived, however, and both his terms in office were mired in controversy.
He was criticised for mismanaging the economy and stifling political and press freedoms.