US embassy in Kenya issues terror attack warning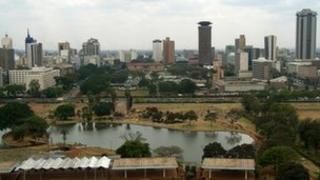 The US embassy in Kenya has issued a terror warning to its citizens in the country, warning them of a possible attack on Nairobi hotels and prominent Kenyan government buildings.
The timing of the potential attack was not known, it said in a statement , but it had reason to believe that it was in the last stages of planning.
It urged US nationals to be cautious.
In 1998, the US embassy in Nairobi was bombed by al-Qaeda operatives who rammed its gate with a truck.
A total of 213 people, including 12 Americans and 34 local embassy staff, died in the bombing.
More recently, al-Qaeda-linked al-Shabab militants from neighbouring Somalia have vowed to carry out an attack on Kenya for sending troops into Somalia.
Kenya sent hundreds of troops into Somalia last year after a wave of kidnappings, including those of four Europeans on Kenyan soil, blamed on al-Shabab.
The UK issued a similar warning to its nationals in Kenya earlier this year.