Frank Odoi: Kenya mourns Ghanaian cartoonist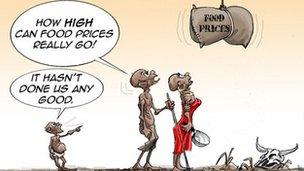 Tributes are being paid to one of Africa's leading cartoonists, Ghanaian-born Frank Odoi, who died over the weekend in Kenya's capital, Nairobi.
He was killed in a traffic accident involving a minibus tax, known as a matatu, on Saturday but his family only learnt of his death on Monday.
His Driving Me Crazy comic strip that tackled the subject of the matatu's notoriously reckless driving.
Mr Odoi, 64, moved to Nairobi in the 1970s and worked there ever since.
Golgoti - white man in Africa
Mr Odoi was one of two passengers to die when the matatu in which they were travelling veered off the road into a ditch on Saturday.
When the cartoonist did not return home over the weekend, family members searched all the hospitals before finding his body in a Nairobi mortuary on Monday morning.
Mr Odoi was one of the first visual artists to be given a daily slot in Kenya's Daily Nation newspaper about 30 years ago - and he has dominated the Kenyan artistic scene ever since.
His work - fiction and political commentary - was also featured in newspapers all over Africa and the BBC's Focus on Africa magazine.
He was most famous for his Golgoti series, about a white man who comes to Africa, and Akokhan, the tale of two centuries-old squabbling men which was based on the folklore of his native Ghana.
News of this death broke on Monday evening in Kenya.
Fellow cartoonist Paul "Maddo" Kelemba, who was a fellow director of the media company Four Dimension Innovative, was among those to pay tribute to his colleague.
"Looking at the empty desk in the corner and expecting to see Frank has been very difficult, disturbing and has made us very angry," Mr Kelemba told the BBC's Focus on Africa programme.
"It is so sad that he met his end at the hands of the matatus which were the subject of his comic strip," he said.
Related Internet Links
The BBC is not responsible for the content of external sites.