Food for thought – When service is on top of the menu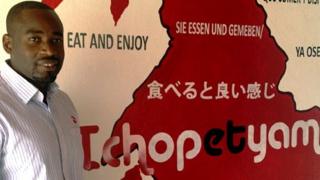 Cameroon's Idris Nguepnang is convinced that people do not go to his restaurants only for the food.
After all, the traditional dishes and drinks that he sells can be found probably cheaper on small roadside food stands in many parts of Yaounde, the capital of the West African country.
He believes that his customers keep coming because of the quality of the service his employees provide.
And his clients seem to be people from different social backgrounds.
"It's not because we're poor or less rich than other people that we don't deserve service and quality, and it's not because we're rich that we need to spend a lot of money to afford service," he told the BBC series African Dream.
His two restaurants, both called Tchop et Yamo (Eat and Enjoy), specialise in "beignets-haricots" or doughnuts and beans, and in a drink made of dried sorrel flowers that he calls djara juice and which is similar to the reddish "follere" beverage concocted from the same plant in different parts of the country.
The drink has proven especially popular and, according to Mr Nguepnang, it represents nearly 60% of his daily sales.
"But we are not selling doughnuts; we are not selling djara juice. We're selling service, and service has to be a culture," Mr Nguepnang said.
Beer ban
The entrepreneur told the BBC Africa's Randy Joe Sa'ah Azeng that he started the company with money he had made while working as the sales manager for a European firm.
"My professional experience gave me the chance to earn money and I did the choice to invest in my dream, to trust my country, my continent. I used my own savings for this project. And, to be honest with you, each day is a fight. That was a big risk," he said.
He also complains that it was difficult at the beginning to find the right staff.
"A money culture and pleasure culture are coming before work culture. People are seeking for jobs but once you give an opportunity to someone, they're playing with that.
"That's why each day I have the feeling that I have to fire someone or I'm saying what's gonna happen today? Who is gonna tell me 'I was late because I didn't wake up' or 'someone died' or 'I was too tired, I couldn't make it' or 'I couldn't catch a cab', etc.
"Slowly, thank God, I'm having good persons seeking for jobs, having a dream, having a goal, thinking that this project could take them to that goal."
He says that it has also been difficult to get customers used to the idea that his restaurants have a strict non-smoking policy and only sell limited amounts of alcohol.
"Most of the time we do have people saying: 'Why can't I drink 10 beers? I have money'. We say: 'No, two beers is maximum'."
He said he has imposed those rules so that families can enjoy their food and their time at the restaurants.
'Like hamburgers'
As a result, Mr Nguepnang says that his biggest priority is his workers' education.
"The company is, maybe, mine but they're running the company. The way they're working, the way they're thinking is really important."
Now that his business is expanding in Cameroon, he dreams of "putting doughnuts and beans on the world gastronomy map - like hamburgers".
"My goal is to have Tchop et Yamo in Berlin, in Boston, Melbourne, Paris, Brussels, London… to sell beignets-haricots and djara in those cities. And you can't dream of things like that when you can't take risks," he said.
And what advice does he have for budding entrepreneurs?
"Once you truly believe in what you're doing, go for it. Courage is not absence of fear.
"So jump in the water once you think that you want to swim. If you think that you have skills to swim, go for it."
He also suggested that one should not blame others for one's failures.
"Every day when I'm walking up I truly believe that it's gonna be fine. I'm already prepared. So at the end of the day, if I have a victory I'm happy, if I've lost I would say 'I didn't do what I should to win'. So, it's always me the problem, not the others."
African Dream is broadcast on the BBC Network Africa programme every Monday morning.
Every week, one successful business man or woman will explain how they started off and what others could learn from them.