Eritrea President Isaias Afewerki goes on TV to dispel health rumours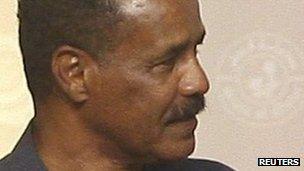 Eritrea's president has made an appearance on national TV to dispel rumours he is either dead or ailing.
"I do not have any kind of sickness," Isaias Afewerki said.
He accused those peddling such rumours of being "sick" themselves and said they were indulging in psychological warfare to "disturb" the people.
Mr Isaias, 66, has led Eritrea since its independence in 1993 from Ethiopia - but faces criticism for failing to implement democratic reforms.
Information Minister Ali Abdu earlier told the BBC the rumours, which began about a week ago, were the work of groups wishing to destabilise the country.
The rumours on various opposition websites and on social media noted that the president had not appeared on television for nearly a month, which they believed was unusual.
Related Internet Links
The BBC is not responsible for the content of external sites.