Mali coup leader rejects Ecowas troop deployment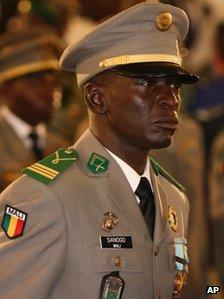 The leader of last month's coup in Mali has rejected the West African decision to send troops to the country.
Captain Amadou Sanago said the military had not been consulted by the regional grouping Ecowas.
The coup leaders handed power to an interim civilian government earlier this month.
A meeting between Ecowas mediators and the interim government was disrupted by soldiers shouting "Down with Ecowas" and cocking their guns.
They only backed down when Capt Sanago left the meeting to tell them to disperse.
The military leaders are unhappy about Thursday's decision by Ecowas heads of government to send at least 3,000 soldiers to Mali.
Their planned deployment was designed to help secure the transition back to civilian rule, and help the government defeat rebels who now control the northern half of the country.
Officers led by Capt Sanogo seized power on 22 March, accusing the elected government of not doing enough to halt the rebellion in the northern desert region.
They agreed to hand over power to a civilian government on the understanding it would hold fresh elections within 40 days.
But the military is unhappy after Ecowas said the interim government should have up to a year to organise fresh elections.
The country's interim president Dioncounda Traore was at the Ecowas meeting.
Capt Sanago told reporters after the meeting that it was up to the military to decide what institutions run the country after the end of the 40-day period.
He did not make clear whether elections would then be held.
The BBC's John James in neighbouring Ivory Coast says it seems the coup leaders still exercise considerable power and fear any Ecowas deployment would threaten their position.
The military leadership said it seized power last month because the previous government had not done enough to combat rebels.
Related Internet Links
The BBC is not responsible for the content of external sites.