Nairobi church struck in grenade attack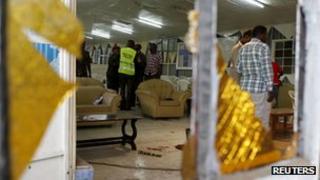 At least one person has been killed and 10 wounded in a suspected grenade attack on a church in the Kenyan capital, Nairobi, police have said.
The attack targeted the God House of Miracle Church, in Ngara neighbourhood.
There has been a string of small arms attacks and explosions in Kenya since Kenyan troops crossed the Somali border.
Kenyan police have blamed previous attacks on Somalia's al-Qaeda-linked al-Shabab Islamists.
However, no-one has yet said they carried out the blast.
"I can confirm that one person is believed to be dead," Kenya police spokesman Eric Kiraithe told Reuters.
Kenyan officials claim the attacks are a response to the Kenyan army's incursion into Somalia, launched in October.
In March, at least six people were killed and more than 60 injured in an attack at a busy bus station in Nairobi when four grenades were thrown from a passing car.
Also last month, one person was killed in a similar attack when a grenade was hurled at a Christian meeting near the port city of Mombasa.
Last October, grenades were thrown into a bar and bus station, killing one and injuring many others.
The blast, which happened when the church was crowded with worshippers attending mass, follows a warning by the US embassy that a terror attack on prominent government buildings and hotels in Nairobi could be imminent.
On Monday, the embassy said that the timing of the attack was not known but they believed it to be at a final stage of planning.