Burundi bans report on political assassinations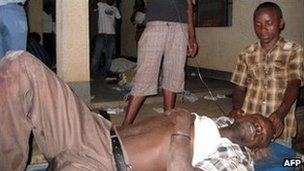 Burundi's government has banned Human Rights Watch from holding a press conference about its report into the escalation of political violence.
Barely a week went by in 2011 without an assassination, the New York-based rights group says.
A local rights group has recorded more than 160 killings this year, blaming the security services for many of them.
The authorities have said such claims are exaggerated and blamed most of the deaths on armed bandits.
The UN has also condemned the Burundian government's failure to tackle "targeted killings".
The UN's assistant secretary for human rights, Ivan Simonovic, who is visiting Burundi, says only eight out of these 61 murders registered last year have been investigated and prosecuted.
Burundi is struggling with the effects of a 12-year, ethnic-based civil war, which officially ended in 2005.
Author of the HRW report, Carina Tertsakian, said the interior minister ordered the cancellation of the report's release in the capital, Bujumbura, without giving any reason.
The report also outlines what it describes as the "tit-for-tat killings" of many individuals on both sides of the political divide.
The murders of sympathisers of the FNL opposition party have been especially gruesome, Ms Tertsakian says.
"There was one case of a former FNL member who was shot about 30 times in the head," she told the BBC.
"There was another case where the victim's body was mutilated, where he was decapitated, the head was found in one place, the body another."
Members of the ruling party have also been killed - although not as many, the report says.
There have been moves by the authorities to improve the situation, including the setting up of an independent human rights commission - but usually nobody is brought to justice, HRW says.
Police often do not do enough to solve the murders, sometimes not even interviewing eye witnesses, HRW found.
"So in the vast majority of cases, the families are still waiting for justice," Ms Tertsakian said.
In a report released last week, the human rights non-governmental organisation, APRODH, says 161 people have been killed between January and March.
The BBC's Judith Basutama in Bujumbura says people are very worried about the spate of unsolved murders and blame the government for not doing enough to stop the political violence.
Burundi's authorities say opposition parties and civil society groups are exaggerating the problem, our correspondent says.
Some 300,000 people are said to have been killed in Burundi's civil war between the minority Tutsi-dominated army and ethnic Hutu rebels.
The conflict officially ended in 2005 with a peace deal which saw former rebel leader Mr Nkurunziza elected president.
Burundi's last rebel group officially laid down its arms in 2009 but sporadic attacks have continued and many opposition members have been driven into exile.
Related Internet Links
The BBC is not responsible for the content of external sites.