UN passes resolution threatening sanctions on Sudans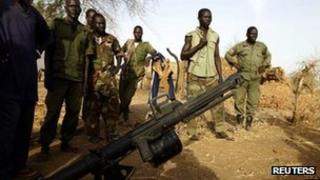 The UN Security Council has threatened to impose sanctions on Sudan and South Sudan if the two nations fail to halt the recent violence.
The unanimously backed resolution calls on Khartoum and Juba to resume negotiations on disputed issues within two weeks.
Fighting in recent weeks has raised fears of a return to all-out war.
South Sudan became independent last year, but disputes with the north over territorial issues remained unresolved.
Earlier, Sudan said it has restarted pumping oil from Heglig, following the recent withdrawal of Southern Sudanese troops.
'On the brink'
The US-drafted resolution backs an African Union roadmap which aims to settle the conflict and bring the two countries back to the negotiating table.
It calls for both countries to unconditionally withdraw troops to their own territory and "immediately cease all hostilities". Both nations must give a written commitment to halt fighting within 48 hours.
It also demands a resumption of talks over outstanding issues within two weeks, with an agreement to be reached within three months.
If either side fails to abide by the terms, then "additional measures" under Article 41 of the UN Charter - which allows for non-military sanctions - will be considered, the resolution says.
The Security Council condemned the South's seizure of Heglig last month, as well as the aerial bombing of villages in the South by Khartoum that followed.
Both China, a major oil buyer, and Russia supported the move despite their traditional reservations about sanctions, diplomats said.
China's UN Ambassador Li Baodong said Beijing was "was always cautious about the use of sanctions", but that it was "deeply worried" about the deteriorating situation.
Ahead of the vote, Russia's UN Ambassador Vitaly Churkin said Moscow had some reservations over it, but that they would support it "because of the African Union".
US Ambassador Susan Rice warned that both countries were "on the brink of returning to the horrors of the past and taking the entire region with them".
She welcomed the "strong and unanimous" support for the AU plan, adding: "This is ultimately the only way that further conflict can be avoided."
Earlier, Sudanese officials said they had begun pumping oil again from the key Heglig oilfield, saying they had repaired pipelines and that some oil had already reached Khartoum.
Disputes over the sharing of oil revenue is a major cause of conflict between Juba and Khartoum.
South Sudan took most of the former united Sudan's oil reserves when it seceded in July 2011 but relies on pipelines to seaports in Sudan to export it.
South Sudan seceded from Sudan last year as part of a 2005 peace treaty following two decades of civil war in which some 1.5m people died.