Bosco 'Terminator' Ntaganda wanted over DR Congo mutiny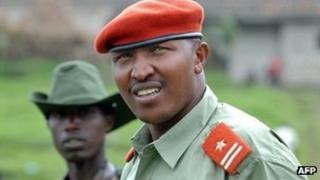 Renegade general Bosco Ntaganda is to be arrested for leading a recent mutiny in the east of Democratic Republic of Congo, authorities have said.
"He is implicated in this case of indiscipline, and he is wanted for that," said North Kivu governor Julien Paluku.
Some 20,000 people have been displaced by the latest fighting, the UN refugee agency says.
Gen Ntaganda is also wanted by the International Criminal Court (ICC).
'Wanted man'
The BBC's Thomas Hubert in eastern DR Congo says the governor's statement shows a growing momentum by the authorities to arrest Gen Ntaganda - known locally as the "Terminator" - who was until last month in charge of a large contingent based in the North Kivu provincial capital, Goma.
In early April, President Joseph Kabila also called for his arrest, following the defections of up to 500 Congolese troops.
Our correspondent says that earlier this week members of the mutinous militia said that Gen Ntaganda was not responsible for their defection - blaming the government instead.
The soldiers, former rebels and loyal to Gen Ntaganda were integrated into the national army in 2009.
But both men say that the general will not be handed over to the ICC, which indicted him five years ago, for allegedly recruiting child soldiers during DR Congo's bloody five-year war.
"As a wanted man, if our units get their hands on him, he must be presented first to the Congolese judiciary to answer his actions," Mr Paluku said.
Local pressure groups, as well as New York-based Human Rights Watch, have called on the US and Rwanda, which has had close ties to Gen Ntaganda, to assist in his arrest.
Fierce fighting between Gen Ntaganda's men and the Congolese army has forced more than 20,000 people from their homes - with about 5,000 crossing over into Rwanda, the UNHCR says.
People in and around the town of Goma blame them for persistent unrest - including looting and rape - since the formal end of DR Congo's war in 2003.