Somali reporter Farhan Jeemis Abdulle shot dead in Galkayo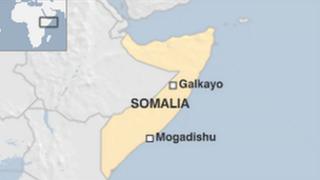 Gunmen have shot dead a journalist in Somalia - the fifth such killing this year.
Farhan Jeemis Abdulle, a reporter for Radio Daljir, was shot by masked men as he left his office in the north-central town of Galkayo, his colleagues say.
Somalia is the most dangerous country in the world for journalists, according to the press freedom organisation Reporters Without Borders.
Somalia has not had a functioning government for more than 20 years.
No-one has yet said it carried out the attack, which happened on Wednesday, the eve of World Press Freedom Day.
"He left the radio station and a few minutes later we were told he was dead," Abdifatah Omar, director of Radio Daljir, told AFP news agency.
"It was shocking and unbelievable to all of us. They brutally shot him several times."
According to the National Union of Somali Journalists (NUSOJ), more than 30 journalists have been murdered in Somalia since 2007.
Another journalist, Ali Ahmed Abdi, was also shot and killed in Galkayo by masked gunmen in March. Two journalists were also killed earlier this year in the capital Mogadishu while another was shot dead in the central Somali region of Hiran.
Galkayo straddles the border between Somalia's northern semi-autonomous region of Puntland and the region of Galmudug, in a country riven by factional fighting.