Nigeria: Lagos doctors sacked over 'illegal strike'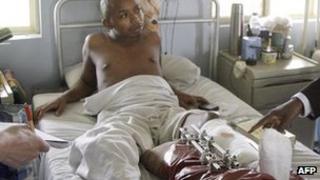 Hundreds of doctors in Nigeria's economic capital have been dismissed after going on an "illegal" strike over pay, Lagos state officials have said.
Almost 800 doctors, on strike for close to three weeks, have been replaced by about 400 junior doctors.
Nurses staffed hospitals in the strike, and some patients are said to have suffered because of a lack of care.
A BBC reporter in Lagos says this is the first time doctors in Nigeria have been sacked over industrial action.
Tough stance
The doctors were dismissed for refusing to answer queries about why they had been absent from work without leave and for breaking rules guiding industrial action in the state's public service, Lagos government official Adesegun Ogunlewe said.
More than 1,000 doctors went on strike on 16 April, saying that the state government had failed to implement a pay increase promised by Governor Babatunde Fashola at the end of 2010.
The BBC's Fidelis Mbah in Lagos says the administration's tough stance is unprecedented - although it did not sack those doctors who replied to queries.
During the strike the city's hospitals have been virtually empty and patients who could not afford to turn to private treatment are expected to flood in, our correspondent says.
This, and the fact that the striking doctors have been replaced by less experienced medics, is of great cause of concern for Lagos residents, he adds.
The Nigerian Medical Association has condemned the dismissals.