South Africa court orders Zimbabwe torture investigation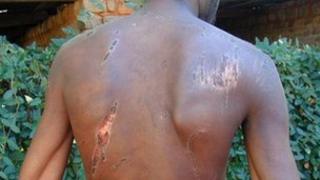 South Africa must investigate Zimbabwean officials over allegations they tortured opposition figures in 2007, a Pretoria high court has ruled.
Under international law, South Africa has a duty to investigate crimes against humanity, the judge said.
Prosecutors had previously refused to investigate the officials, who had travelled to South Africa.
Zimbabwe's justice minister dismissed the ruling, saying South Africa had no right to investigate cases in Zimbabwe.
'Shiver down the spines'
The case was brought by the Southern Africa Litigation Centre (SALC), along with the Zimbabwean Exiles Forum (ZEF), many of whose members fled to South Africa saying they had been tortured by Zimbabwean security agents.
They argued that because South Africa recognises the International Criminal Court (ICC), it is obliged to act on allegations of torture, which is classified as a crime against humanity.
It centres on an incident in 2007, when supporters of the then-opposition Movement for Democratic Change say they were tortured after a raid on their party headquarters. They have named 17 Zimbabwean officials and want them arrested and prosecuted.
South African Judge Hans Fabricius ruled that police and prosecutors had acted "unconstitutionally and unlawfully" - and ordered them to conduct an investigation.
"In my view it is clear when an investigation under the ICC Act is requested, and a reasonable basis exists for doing an investigation, political considerations or diplomatic initiatives are not relevant," Judge Hans Fabricius said.
SALC and ZEF said South African police and the National Prosecuting Authority refused to investigate, citing "political considerations".
South Africa is the main regional mediator in Zimbabwe's political crisis, and Zimbabwean officials regularly travel to the country on official and personal business.
Human rights groups have welcomed the judgment as ground-breaking.
"This judgment will send a shiver down the spines of Zimbabwean officials who believed that they would never be held to account for their crimes but now face investigation by the South African authorities," said human rights lawyer Nicole Fritz of SALC.
Zimbabwe's Justice Minister Patrick Chinamasa told the BBC's Brian Hungwe that South Africa had no jurisdiction over Zimbabwe.
"We have done nothing wrong in this country that would justify bringing us under the jurisdiction of the ICC, even if we were a state party," he said.
"The ICC is there for serious crimes against humanity - not ordinary crime, which is what these exiles are trying to suggest."
As many as four million Zimbabweans have sought economic and political refuge in neighbouring South Africa.