Libya PM brands Tripoli office attackers outlaws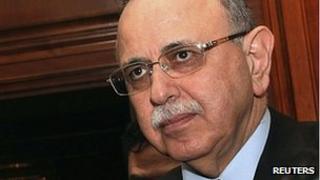 Libyan Prime Minister Abdurrahim al-Keib has branded gunmen who attacked his office in the capital Tripoli as "outlaws".
In a televised speech he said the men had "pretended" to be rebel fighters to claim cash handouts offered as rewards for helping to topple Col Gaddafi.
One security guard was killed when about 200 armed men, some carrying mortars, tried to storm the building.
They were eventually repelled by security forces.
"This afternoon, the building of the council of ministers came under attack by outlawed gunmen pretending to be revolutionaries, but they are not," said Mr Keib.
"These outlaws claimed that their attack was for getting some cash allocated as rewards for the real revolutionaries."
He added: "As the government asserts that it will deliver on its promises, it also announces that it will not give in to blackmail or to outlaws and will not negotiate under the threat of force."
Three other security guards and one of the gunmen were also injured in the battle, Tripoli security official Khaled Besher said.
Fourteen of the attackers had been arrested, he added.
Rocket launchers
Government spokesman Nasser al-Manaa said that a group of demonstrators had gathered outside the offices on Tuesday morning.
By noon, the crowd had grown to 200 people including gunmen from the western town of Yafran backed by about 50 trucks mounted with anti-aircraft guns and rocket launchers.
Yafran is a town populated by members of the Berber ethnic minority located about 100km (60 miles) south-west of Tripoli.
The demonstrators aired their grievances but then some of the gunmen forced their way into the building and opened fire, Mr Manaa said.
Most people inside the building fled, including the finance minister and the deputy prime minister.
The interim government began paying rewards to former rebel fighters a few months ago, but the scheme was suspended last month amid allegations of fraud, provoking anger from some groups.
The Libyan government has been trying to encourage thousands of militia members who took up arms against Col Gaddafi to disarm, amid concerns about stability.
However, correspondents say the tough response to the attack shows the growing strength of state institutions in post-Gaddafi Libya.
Libyans are due to vote for a constituent assembly in June, the first national poll in the country for more than four decades.